Installing and Using Firefox
by Wren McMains
(12/1/2008)
Firefox is a web browser, much like Internet Explorer. However, for a variety of reason I highly recommend using Firefox instead of Internet Explorer. One reason is I think you're much less likely to become infected by a virus, especially if you've installed and take advantage of the add-ons (or extensions) I recommend below.

There's nothing much to installing Firefox. You'll find it at www.Mozilla.com. Download it to your "Downloaded Software" folder (whatever you've called it on your machine) ... then double-click on it to install. After installing, the first time you start Firefox you'll get something like:

Most of you are using Internet Explorer, you can just choose to the button to import from "Internet Explorer" and be on your way. If you use AOL or Juno, try choosing IE ... it probably has your bookmarks. (Advanced users: one slight problem is that in addition to your Bookmarks, IE calls them Favorites, it will also bring in your cookies, history and preferences which may not be the best for Firefox. An alternative is to choose "Don't Import Anything", and then later on the File Menu, choose Import and this time after you specify your browser it will give you a choice of what to import and you can choose to just import your Bookmarks, or Favorites.)

When Firefox starts it looks like this (assuming you let it use it's start page, not the one you were using in Internet Explorer) ...

Most of the screen shots on this page were taken four year ago, in February, 2005 using an early version of Firefox, but it hasn't changed all that much. If you see a screen shot that seems at odds with the current version of Firefox, let me know and I'll update it. The Options Menu below (and all the option menu screen shots) show what one currently sees when using Firefox, Version 3.

That Google page not my first choice in start pages (especially since there's a Google search on the toolbar). If you want a start page (I use a blank one when I'm on a dial-up line) go to a website like this one ...

Sponsored Advertisements:

Sponsored Advertisements: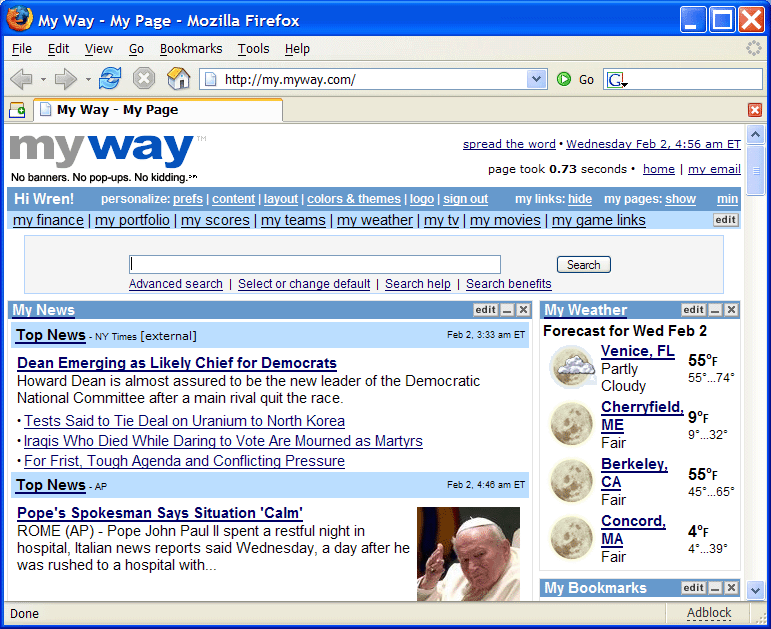 Be sure it is the only page open (unless you always want to start with two or more open pages). Then under Tools / Options click on the Main tab (blue arrow below) and then press the "Use Current Pages" button (red arrow) ... that will fill in the URL to the current page (as you see below). Then from the pull-down (green arrow), choose "Show My Home Page".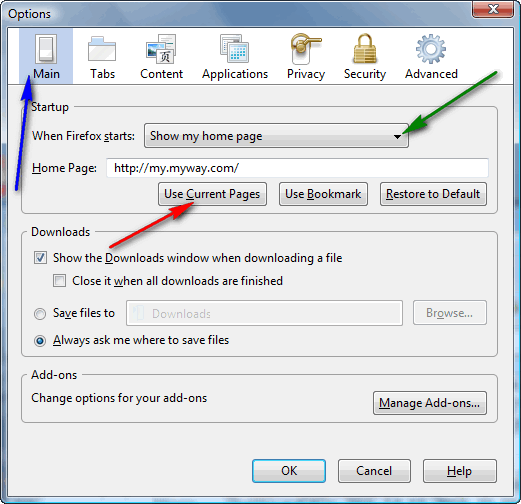 The reason I choose "Show a Blank Page" (from the pull-down) when I'm using a dial-up line is that I don't want wait for a page like this (one with lots of information) to load every time I go onto the internet. Other pages that people choose are MSN, CNN, Yahoo, etc.
If you do use a home page, I recommend one you can fully customize. I know there are others, but this is one I've been using recently ... (Compare the screen below with the one a couple of screens up ... you can see some of the kinds of things you can include and how different you can make the page look ... I especially like being able to customize the TV listings.)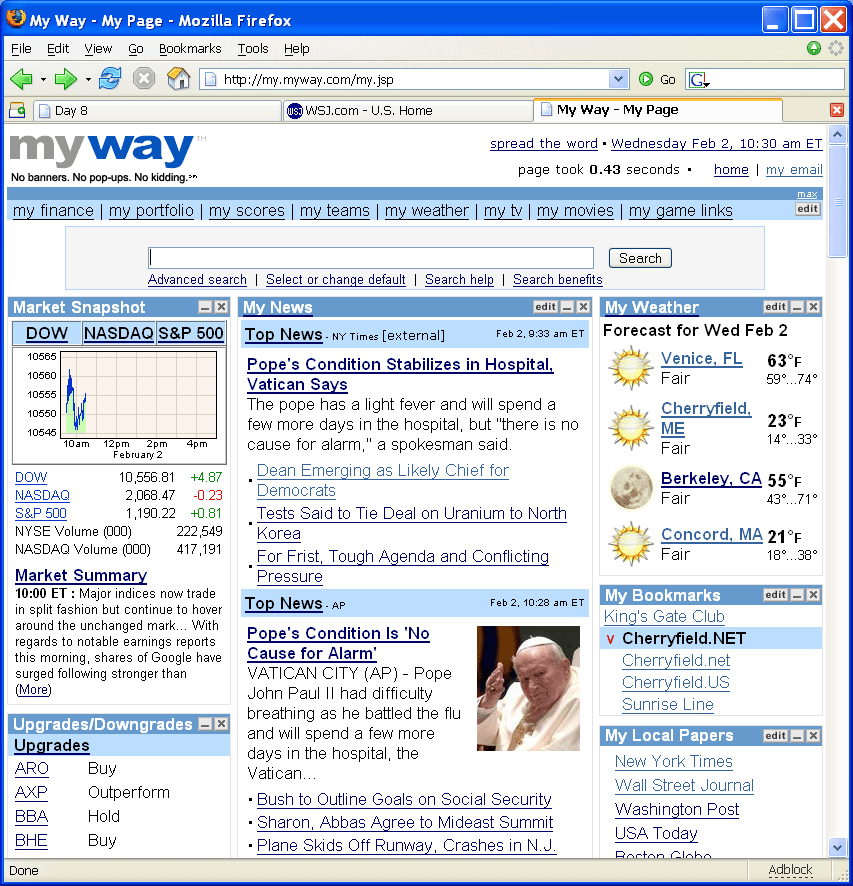 Another nice feature of Firefox is the inclusion of a Search Engine on the mail Toolbar. I use Google ... I just type my search next to the G (top right) ... here I searched for my name ... (and as you see if you click on the G pull-down you can choose other search engines, or add you own choices)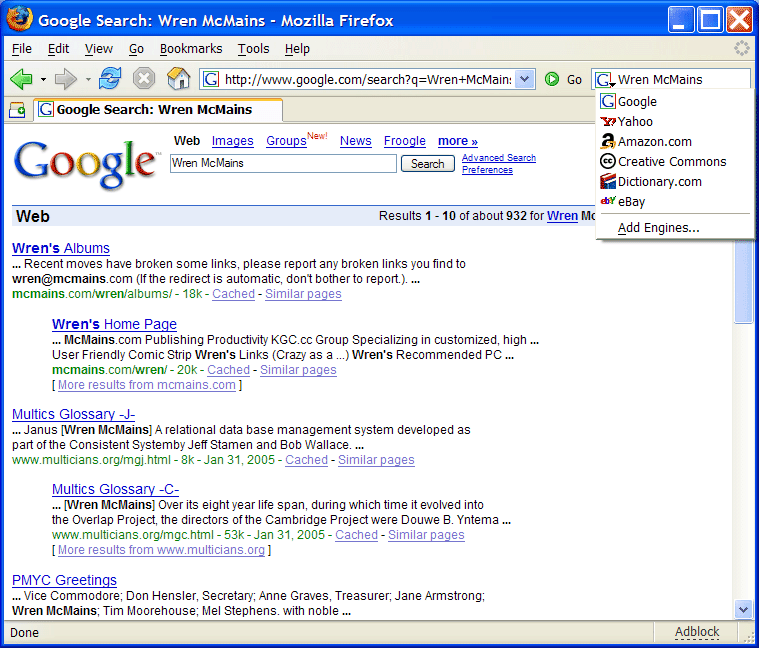 As with everything on your computer, it's important to organize your Bookmarks (Favorites) into folders. I have relatively few folders, but each folder has other folders with Bookmarks inside ...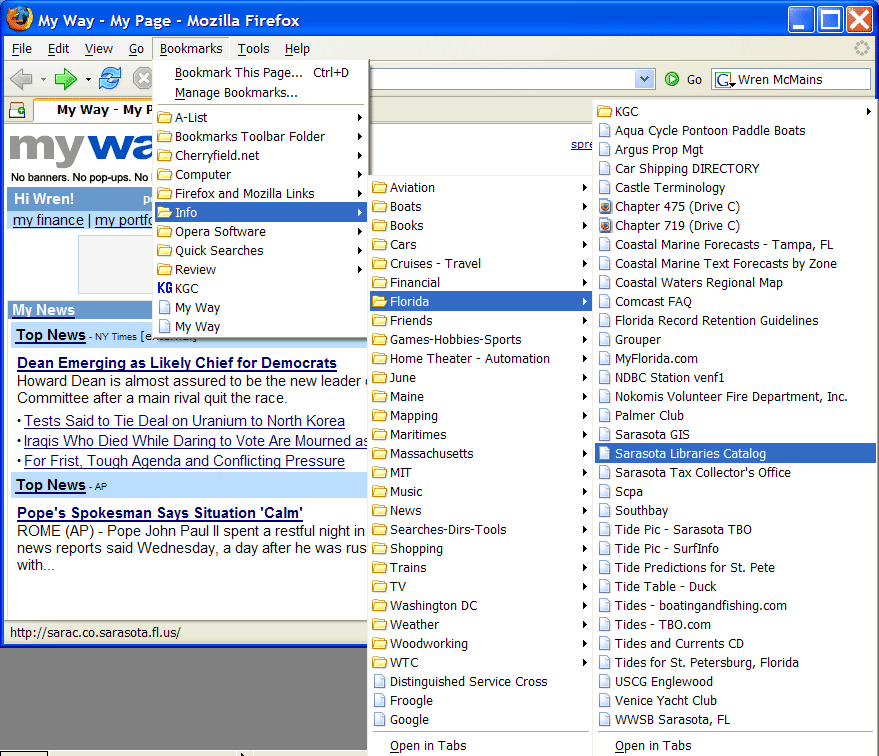 If your screen is wide enough, you might want to turn on the Bookmark sidebar by ...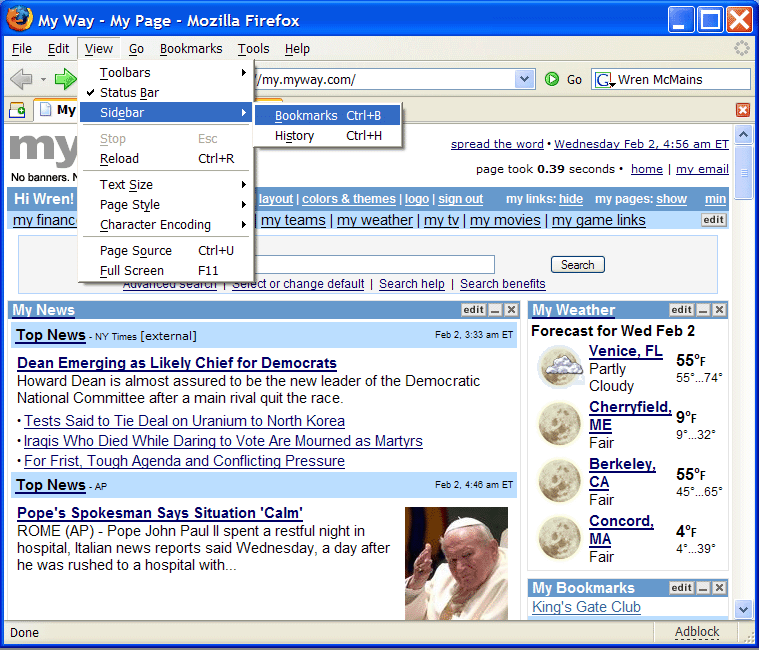 With the Bookmark sidebar on, it will look like this ...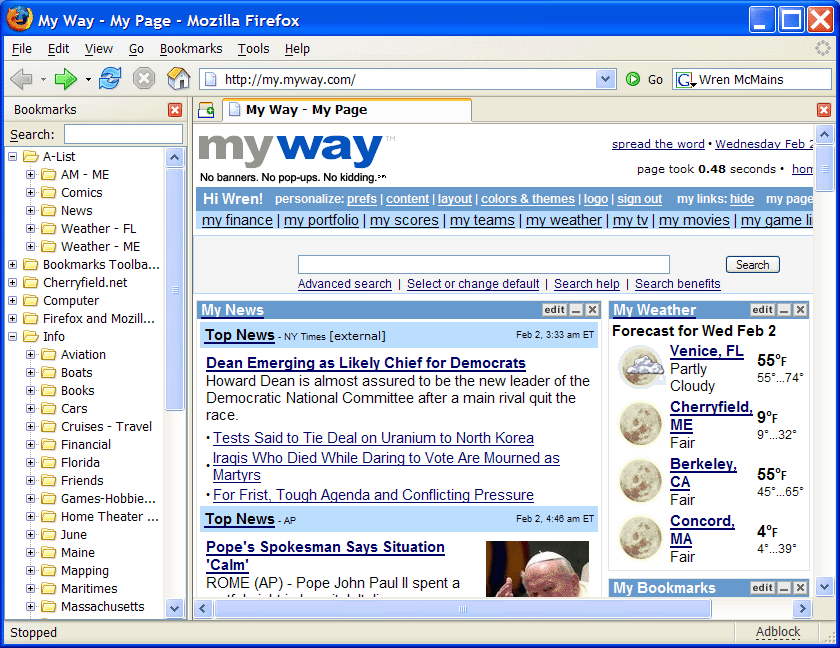 If the text on a page is too small ...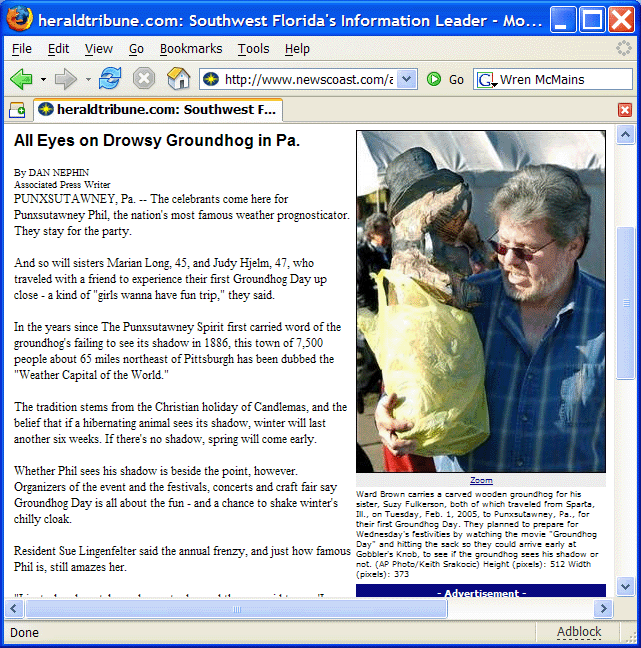 Just hit CNTL and the Plus Sign together one or more times. (You can also permanently change the text size under Tools / Options / Content / Fonts and Colors / Advanced.)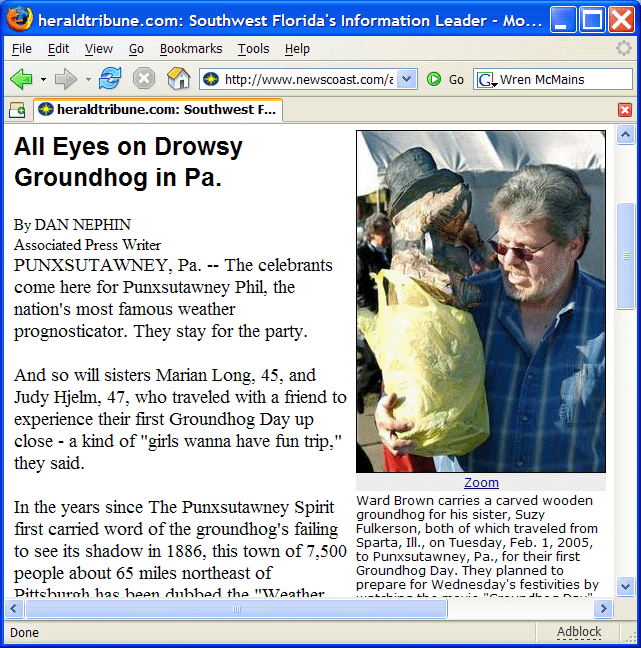 CNLT and the Minus Sign will reduce the text size ... you can use the + and - signs on either the number keypad or the main keyboard. Using CNTL and the plus/minus key is an important trick to remember ... it works in many programs!
At some point you should review the Firefox options you can set, click to see sample Option Screens.
Tabbed Browsing
There are at least a couple of big advantages to using Tabbed Browsing. First it allows you to open all the Bookmarks (Favorites) in a folder. In the example below you see a Folder named "AM - ME" which contains a list of websites I like to look at in the morning when in Maine ...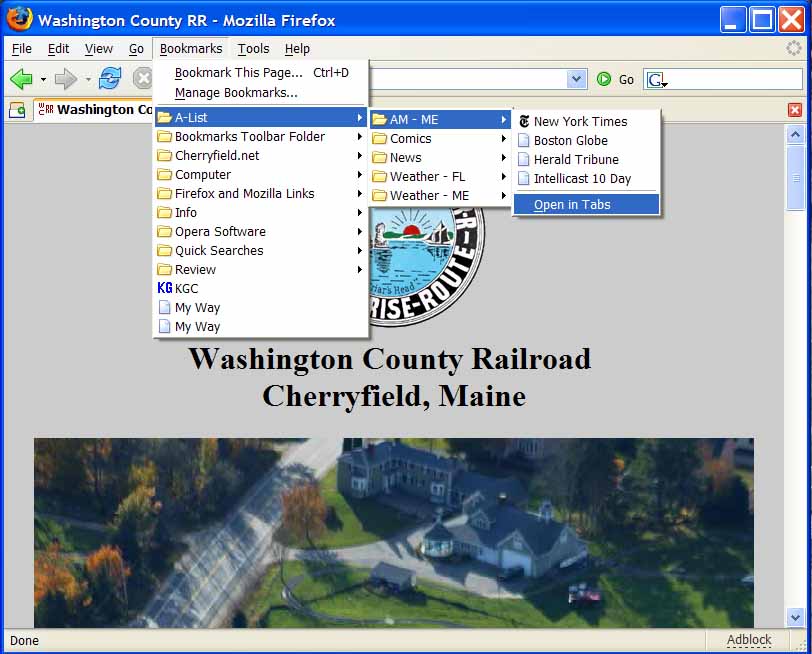 You'll notice below that several tabs appeared under the tool bar ... the pages (websites) associated with each of these tabs can load in the background while you continue to read the current page. Given the way I have my options set, I had to click on the tab labeled "NY Times" get to the screen below ...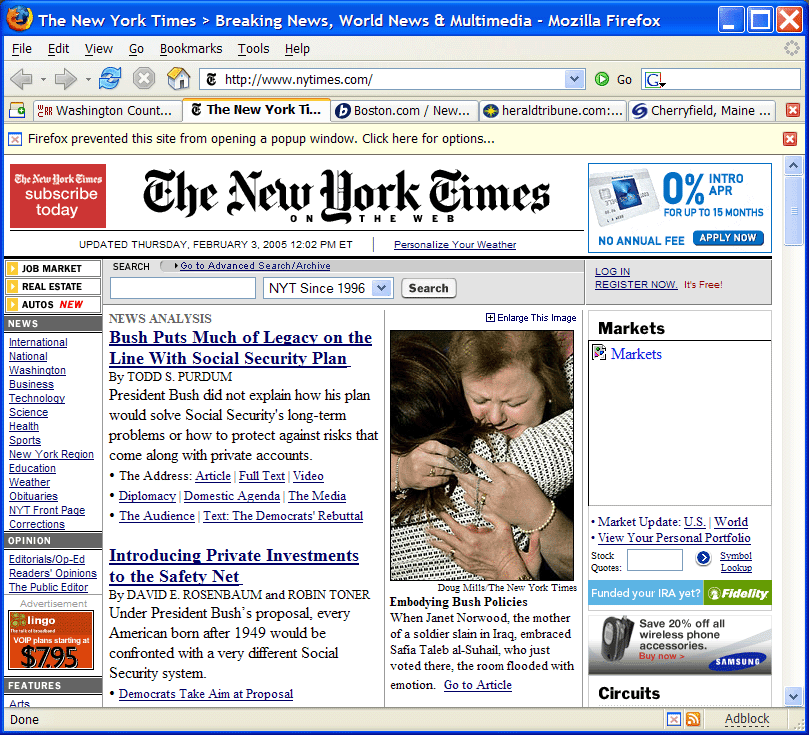 You'll also notice that Firefox also prevented this website from opening a pop-up window ... a great feature ... many virsus got onto people's machine when pop-ups appeared and there seemed to be no way to get rid of the pop-up window without agreeing to whatever. Internet Explorer added this feature later, but I don't think you have as much control over the pop-ups as Firefox gives you.
Another way to use Tabbed Browsing is to either middle click on a link (if your pointing device has extra buttons, or to hold down Ctrl while left clicking ... if your options are set correctly the pages you click on will load in other tabs, in the background, allowing you to continue reading the current page while they are loading.
I think Tabbed Browsing started in Opera (another browser) which I used for years. Personally I can't bear to browse the Internet without Tabbed Browsing, but the basic tab features Firefox comes with aren't very good. Instead you need to install an add-on. (Actually there are several add-ons, or extensions, you might want to install.) Under Tools, choose "Add-ons". That will bring up a box showing the extensions currently installed. Go to the "Get Add-ons" tab: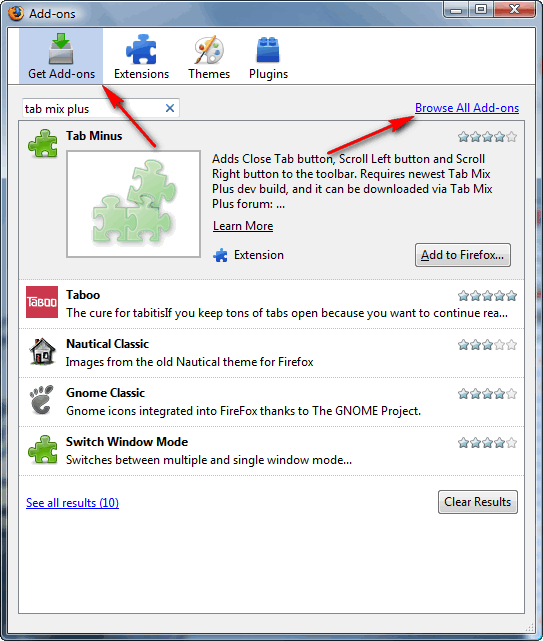 Then click on Browse All Add-ons which will bring up a page like: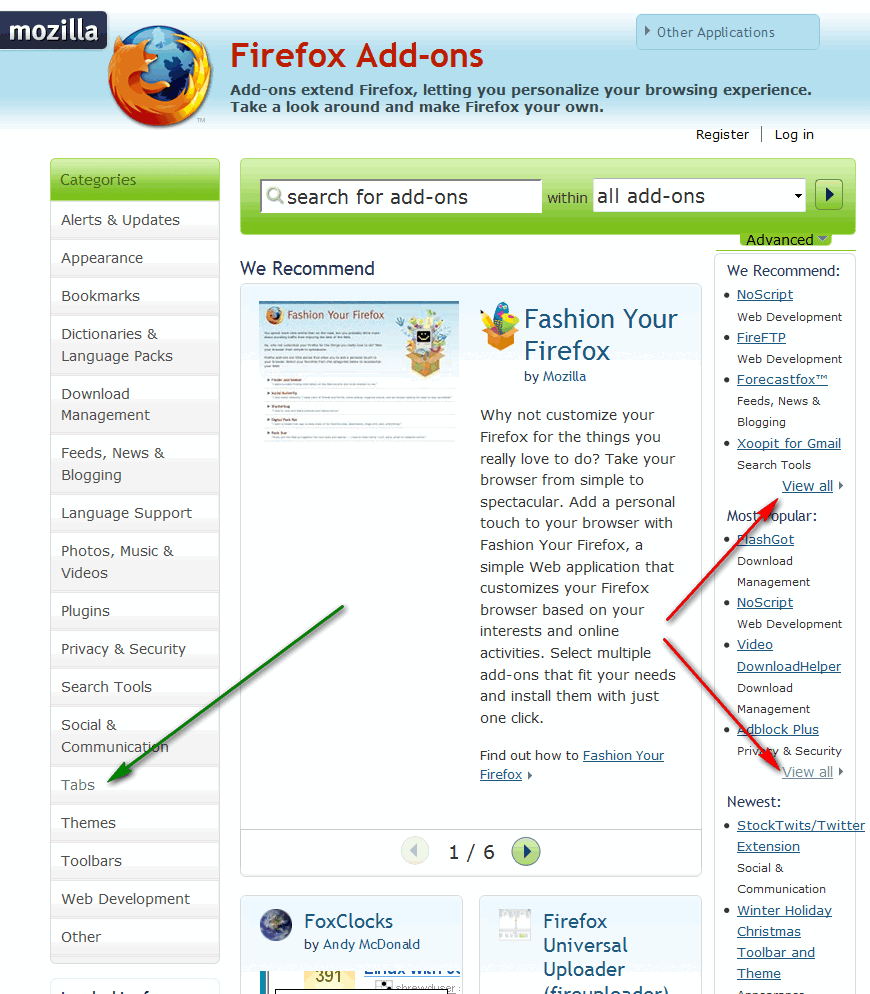 There are several ways to find add-ons you might like. You can choose from some random choices from the "We Recommend" and "Most Popular" lists, but when you have a chance I recommend choosing "View All" (red arrows above) from these two lists ... they contain some of the best choices. Since we're looking for something to improve Tabbed Browsing we could click on the "Tabs" category on the left (green arrow above). This brings up something like this screen: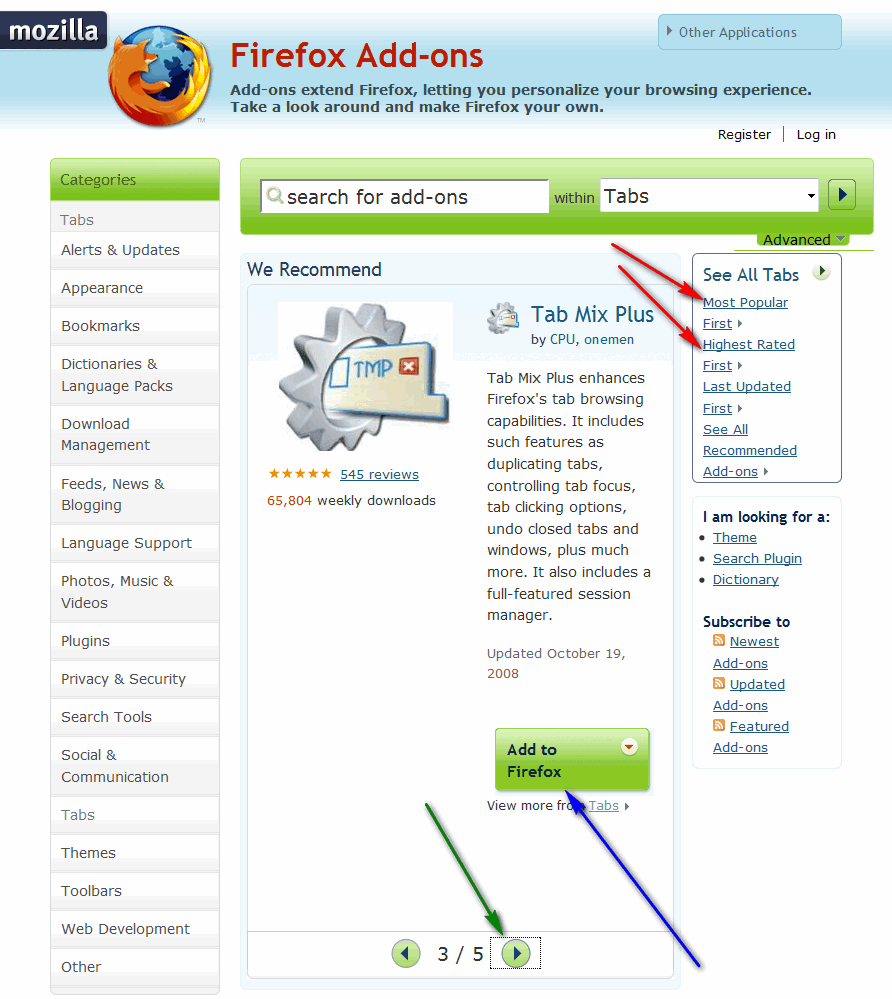 You can click through the recommended ones (green arrow above) or choose to "See All" in the category. I usually view by sorted by "Most Popular First", or you can try sorting by "Highest Rated First" (red arrows above).
Once you click on Add to Firefox (blue arrow above), it will download the extension and give you a dialog box like: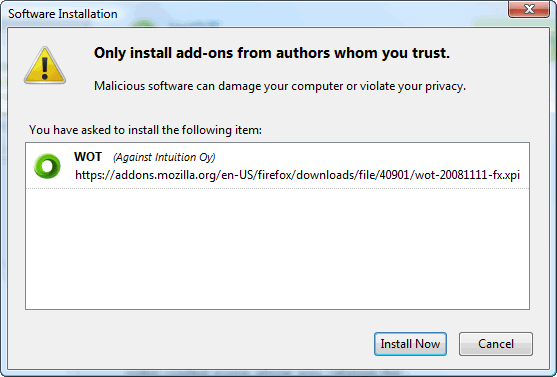 After a few second the Install Now button (above) will appear, click on it. After you've installed all the add-ons you want, you'll have to exit and re-start Firefox for the installation to be complete. If you know the name of the add-on you want, the easiest way to find it after choosing "Tools / Add-ons" and then "Browse All Add-ons", is to type part of it's name in the search box:

These are the add-ons currently installed on my machine. I recommend them all (although many of you will not need the FTP Client add-on):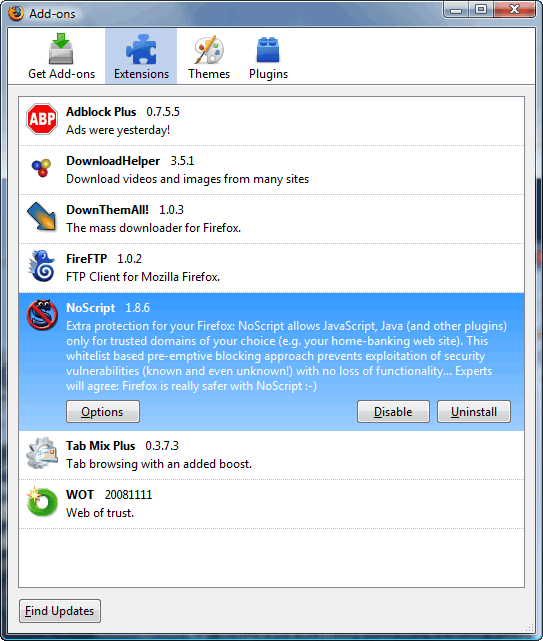 The newest one I recommend is "NoScript" ... it will prevent websites from running things on your computer without your knowledge ... it should really help guard websites installing a virus, or otherwise causing trouble. The only disadvantage is that once you install it, it will block all websites. You have to approve scripts run by sites you approve. When a site is blocked you hear a noise, and a yellow line like this at the bottom of the page: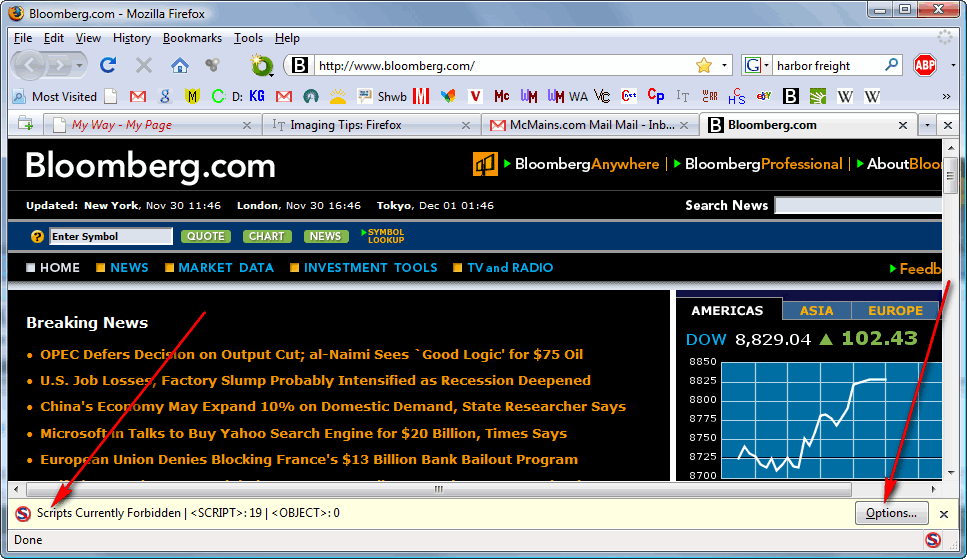 Many times you can just ignore the fact that a script is being blocked. It's may just recording your visit, picking ads for you to see, or doing something else you don't care about. If you do find blocking scripts causes trouble at a particular site, click on Options, you'll see something like this: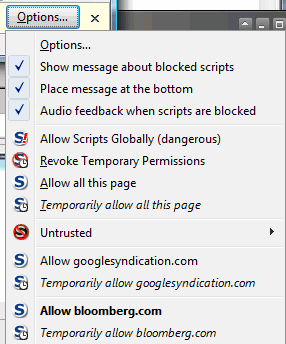 If it's a site you trust, choose "Allow NameOfSite" and the yellow bar will go away unless there are scripts from other sites (like ad companies) on the same page. On this particular page you'll see two sites are trying to run scripts: GoogleSyndication.com and Bloomburg.com ... you can choose to allow one and not the other, or you can choose to allow one or both on a temporary basis as a test.
NoScript seems like a great tool to protect you from unwanted programs running on your machine. It has about a dozen option menus which I have yet to explore.
Suggested next choices: