Windows Live
by Wren McMains
(2009, updated January 2012)

Since writing this just over two years ago, Microsoft has totally changed the interface to Windows Live. Since I had trouble finding my own way around, I figured I should update the screen shots.

Windows Live is Microsoft's internet extension to the Windows operating system on your PC; it allows you to store and access data in Microsoft's Cloud. Access is via http://home.live.com ... you need an account, but if you have an account at MSN, Hotmail, or another Microsoft site you already have one.

If you are creating an account, you can either get a new Live ID with an @hotmail.com or @live.com address (use the pull-down to choose). Or you can create an account using your current email address (click on "Or use your own email address"):

Some people like Live Mail (now called Hotmail) because it allows you to access several different e-mail accounts at once, but I still prefer Gmail (which lets me see all my mail in one place and when I respond it uses the address to which the mail was originally sent). The reason I recommend Windows Live if that it gives you 25GB of free on-line storage to use any way you want. This storage is called your "SkyDrive" and access is either by clicking on the word "SkyDrive":

Sponsored Advertisements:

Sponsored Advertisements:


Or by hovering over the word "SkyDrive" and choosing another option from the list: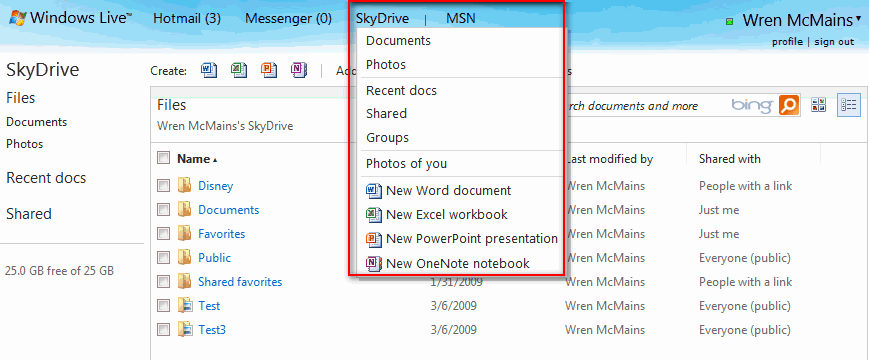 You create folders on your SkyDrive and share them with others as you see fit. "Photo Albums" stored on your SkyDrive are just folders with images. Clicking on "SkyDrive" displays all your folders in a list, clicking on "Documents" displays folders which are not Photo Albums in a list, clicking on "Photos" displays your Photo Album folders as active thumbnails with the folder name superimposed in the lower left corner and the count of the images in the folder in the lower right corner. The thumbnails keep changing, displaying some of the images in the Album:

It's not hard to upload files to your SkyDrive; the only limit is that individual files cannot exceed 50MB in size, but that's bigger than the size of your highest resolution images, or enough for a short video.
If you're just uploading pictures, you may find it easier to use "Windows Live Photo Gallery" program which is part of the Windows Essentials collection. It uses the term "publish" to mean upload the selected photos to a Windows Live Photo Album. You can get Windows Live Photo Gallery from http://download.live.com:
Because I like FastStone, I just drag and drop images that I'm viewing in FastStone onto an Album I'm viewing on my SkyDrive:
You can also just click on "Add files", and a dialog box which lets you select one or many files will appear: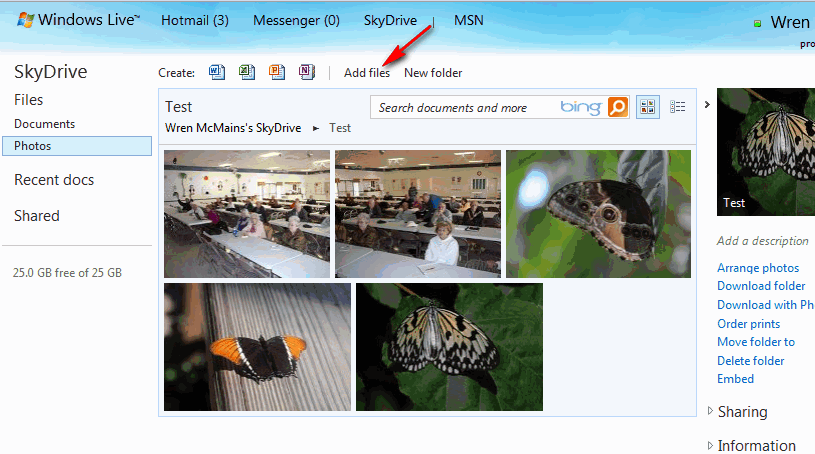 As you can see, next to "Add files" is "New Folder" which you can use to create new Photo Albums. Just be sure you're looking a the thumbnails of all your Albums, otherwise, it will create the folder under the one you're viewing. If you do by mistake, you'll note there is also a "Move folder to" choice on the right (select the folder you want to move first).
When creating folders, or Photo Albums, on your SkyDrive they initially are NOT shared. To share them, click on "Share folder" or "Share" under "Sharing":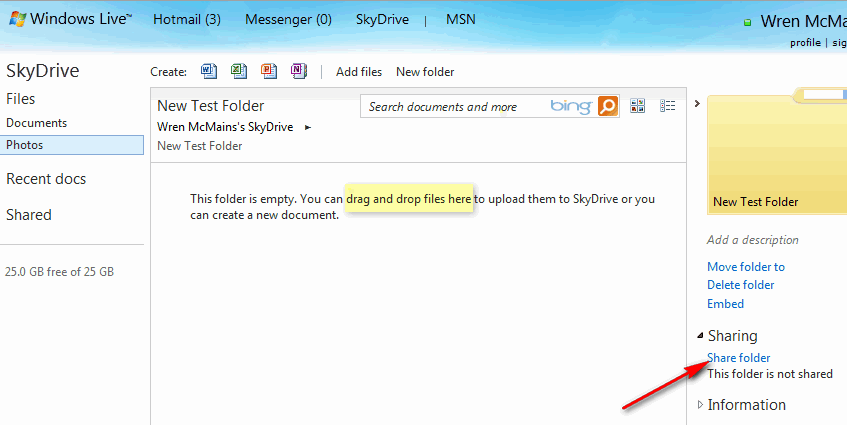 Which brings you to this dialog:
you can send someone an e-mail with a link to the folder, or I recommend clicking on "Get a link" which gives you these three choices: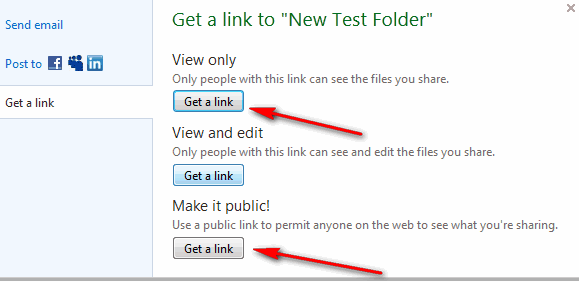 Clicking on any of the buttons gives you a link you can copy and paste into your own, much more personal, e-mail. Choosing the "Make it public!" choice, allows anyone to see the folder.
When I tried Windows Live a couple years ago, it didn't play nice with Firefox, but now it does. I no longer see the need to use Windows Live Photo Gallery, I just drag and drop from FastStone.
Another feature of Live I REALLY like is Microsoft Live Mesh, click for details. It allows you to automatically synchronize a folder and all it's sub-folders, across many machines and it allows you to access the information from ANY machine should you not be at your own machine.
---
Suggested next choices: