Setting up a Wireless Connection
by Wren McMains
(8/12/2013)
Even if you don't have your own high speed connection, you may be able to take your laptop somewhere there is a wireless connection available.
Be sure your wireless adapter is turned on. Some computers have a switch that allows you to turn off your wireless adapter to protect your computer from unauthorized access. I know Toshiba computers are (or were) shipped with this switch turned off. Look at the diagrams that describe all the buttons, switches and connectors on your computer ... if you have such a switch makes sure it is turned on ... if you do have a such a switch there's usually also a light showing that it is turned on ... learn to recognize it and check that it is on before trying to connect. If you don't have a switch the turning the wireless adapter on/off is probably controlled by one of the function keys. On some machines you also need to hold down the Fn key at the same time.
This little icon (which I guess is a antenna next to a screen) with a red X shows you're NOT connected to a wireless network:

If you hover over the icon you see:

If you click on the icon the Windows 8 Network wizard pops out from the right side of the screen: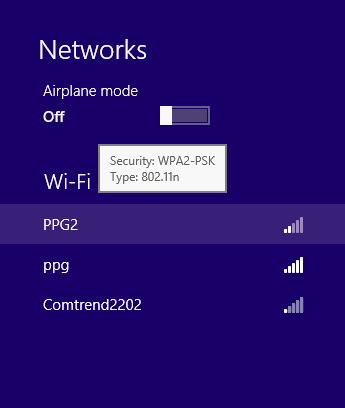 In this case there are three networks available. The little vertical bars show the signal strength of each (PPG is the strongest). And as you highlight or hover over each it shows you information about the security of that connection.
If you click on a connection it gives you a "Connect" button.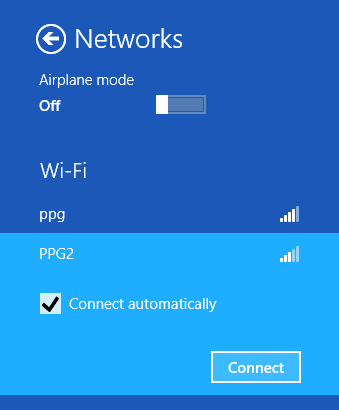 Check the Connect Automatically box as appropriate and click on Connect. Then fill in the access code:
To verify the characters you've typed, click on the icon that looks like an eye to the right of the hidden code you typed. Click next and you'll see: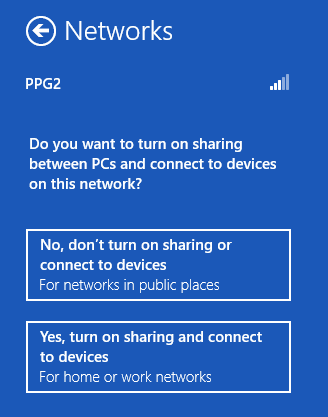 If you're on a public network, select the NO choice, at home select YES.
At that point it will probably say you're connected, but it might just be a local connection. Go back to the Desktop and hover over the Network icon near the time on the Task Bar. As long as it says you have Internet access you should be good to go.
Prior to Windows 8 if you went to Control Panel / Network and Sharing Center there was a "Manage Network Connections" option (top left). I haven't found the same thing in Windows 8, all I've found is that when you see a network connection, if you right-click on it you get some options: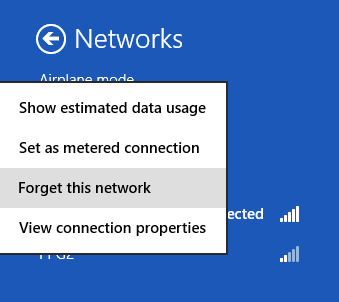 ---
Note that Windows 8 doesn't ask you about your time-zone when it does the initial setup. Unless you're on the West coast of the US you need to change it and set the current time. As soon as you have internet access, it's a good time to set the clock. To make these changes I still like to click on the clock (bottom right corner of the Desktop) and choose "Change date and time settings ...". You'll get: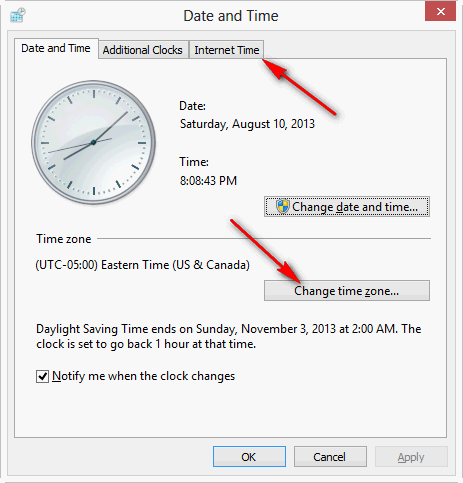 First change the time-zone if it's not correct. Then choose the Internet Time tab which brings up:
Click on Change Settings which brings up: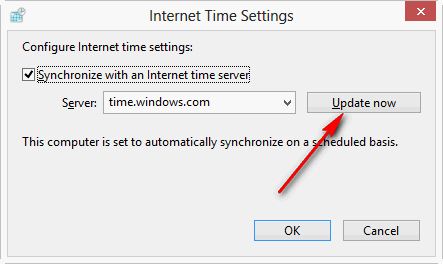 Click on Update Now (the Synchronize box should already be checked). If you ever have trouble, first make sure you have internet access, then try changing the Server using the pull-down.
Suggested next choices: