New Computer Setup
by Wren McMains
(9/25/2009)
Note: This started out as one page, but now this page is really the table of contents to all the other pages. Each image below is represents another section, click on the image or the title below it to jump to that section.
---
I'm often asked what to do when someone gets a new computer. What "stuff" that will never be needed should be removed? What are the first programs I should add?
And although this is written from the perspective of setting up a new computer, there are many sections where you can find tips for improving the setup of your current computer.
Here we'll look at what I did to a new laptop before the owner ever started to use it. It's happens to be an Acer. My choice in laptops (this year) is Toshiba, but this machine seemed to be a really good value. When it comes to desktop computers, I usually recommend custom built. When buying an off-the-shelf laptop computer the things I look for (and what this one included for only $450 including shipping and tax):
Processor Speed (Not as important anymore for most of us, but numbers give a good relative measure of speed ... for example, a 2.5GHz machine will be about 25% faster than a 2GHz machine ... this laptop was 1.9GHz).
Memory (I recommend at least 2GB if possible, this one had 2GB.)
Screen Size (Bigger is usually better, although a big screen leads to a bigger, heavier laptop; this one was 14.1 inches, mine own is 17 inches. Most now come in a wide screen format, this allows you to have nice size windows open and still be able to see gadgets on the right and/or desktop icons on the left.)
Screen Resolution (Higher resolution is better, for most people I've recommended 1440x900 on a 17 inch laptop. This one is 1280x800 which seems OK on a 14 inch screen. Mine is 1650x1050 on a 17 inch screen.)
Hard Drive Size (The bigger the better, but only really important if you do digital photography; this one had a 120GB drive).
CD/DVD Burner (Make sure it will write DVDs, not just CDs; this one did).
Web cam (This is a nice option that some laptops have built into the cover; this one did. If a computer you like doesn't come with one, it's no big deal; you can buy one that attaches to a USB port for a very low cost.)
USB Ports (Again, the more the better. This one had 4; they were spread around, two on one side, one on the other and 4 in the front.)
Wireless (Most new laptops now include it. Should be 802.11b/g)
Dial-up Modem (Be careful, some laptops no longer include one.)
Vista Home Premium (People complain about Vista, but I've decided it's pretty nice. Avoid the "Home Basic" version ... it the version they put on when the computer doesn't really support Vista.)
Other I/O (This one had a touchpad; VGA out which supports an external monitor or projector, S-Video out which supports connecting to a TV or projector; connectors for speakers, headphones and a microphone; internal stereo speakers, quality may vary; LAN Ethernet connector, should be 10/100/1000Mbps.
Keyboard (Laptop keyboards vary a lot, try it out if you can; layouts also vary; my 17 inch laptop is big enough to also have a number pad, most laptops do not. When used at home you can attach a real keyboard via a USB port.)
Mouse (Never included with a laptop, but you might want to consider getting one especially if you have trouble getting use to the touchpad. I mostly use my touchpad, but for a mouse I recommend a wireless one where the USB antenna fits inside the mouse when you are not using it ... both Microsoft and Logitech make ones I like ... mine is one of the more expensive Logitech ones. Another thing to consider is a combination wireless keyboard and mouse; again both Microsoft and Logitech make ones I like.)
When you first turn on the machine it asks a few questions and then often takes quite a while to install and setup Windows. Tip: Laptops seem to come with lots of stickers saying how wonderful they are stuck to the surface in front of the keyboard (this surface is designed as to be a wrist rest). While you're waiting for Windows to finish its installation is a good time to remove most of these stickers ... you'll find as the machine gets hot, as they do during normal use, the stickers will get baked on and become difficult to remove. There are two stickers that never want to come off, so I leave them on: the Windows sticker and the computer chipset (Intel or AMD). All the other stickers come off easy if you take them off immediately. I find that my wrists are much happier on the smooth, slick surface than they are resting on labels which have started to wear.
This Acer took less time to setup Windows than most machines. Once it started (and I installed FastStone Capture so I could get all these screen shots), this is what I saw: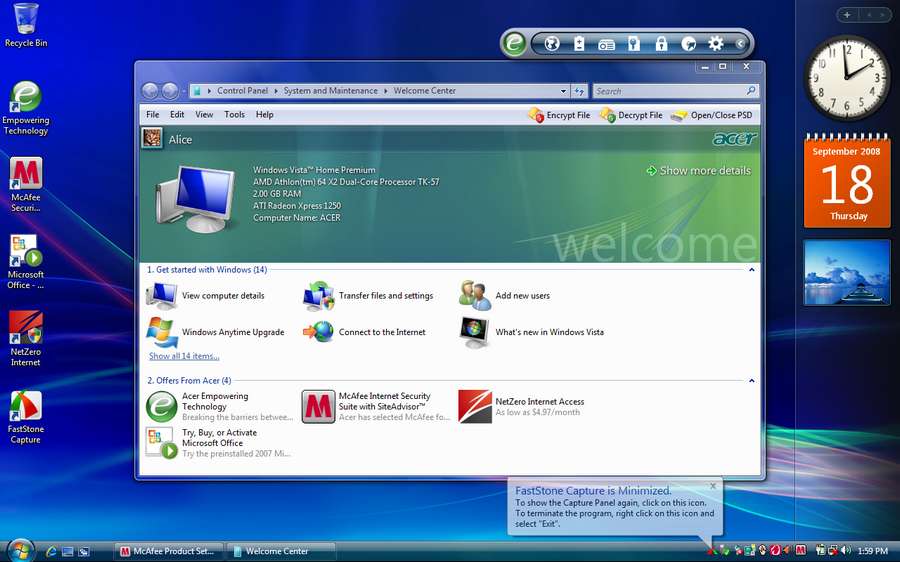 Basic Settings: Folder Options and User Account Control
---
Very Important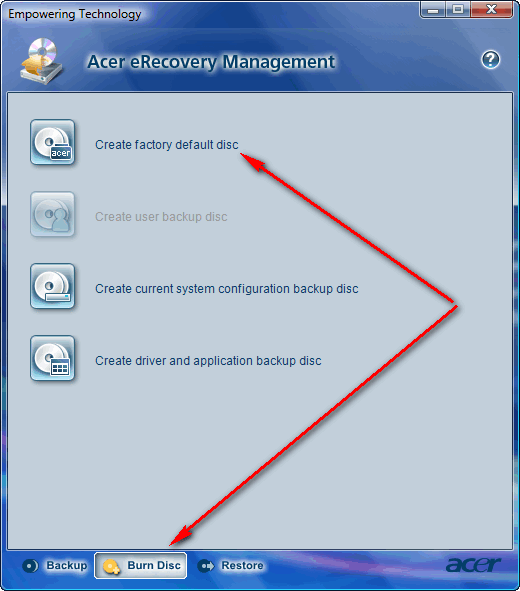 ---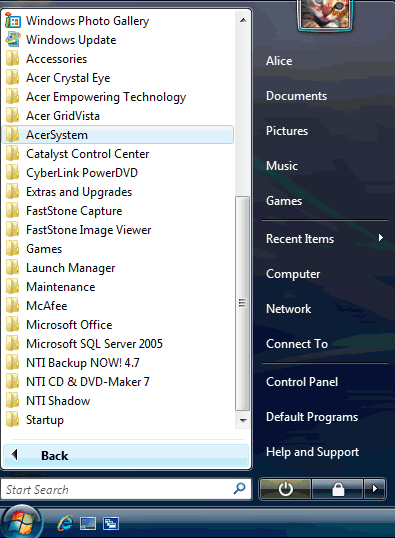 Organizing "All Programs" (Optional)
---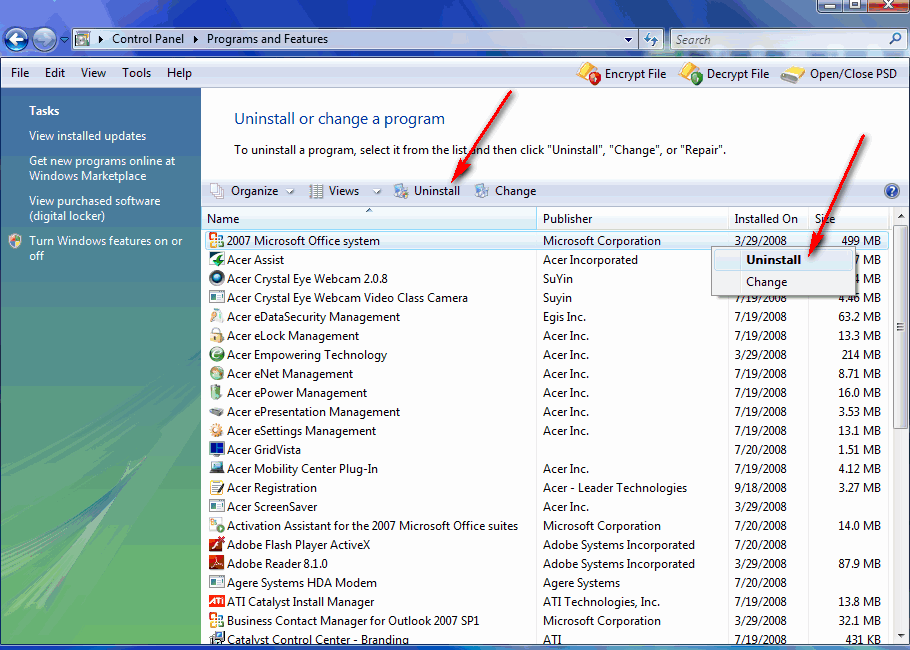 ---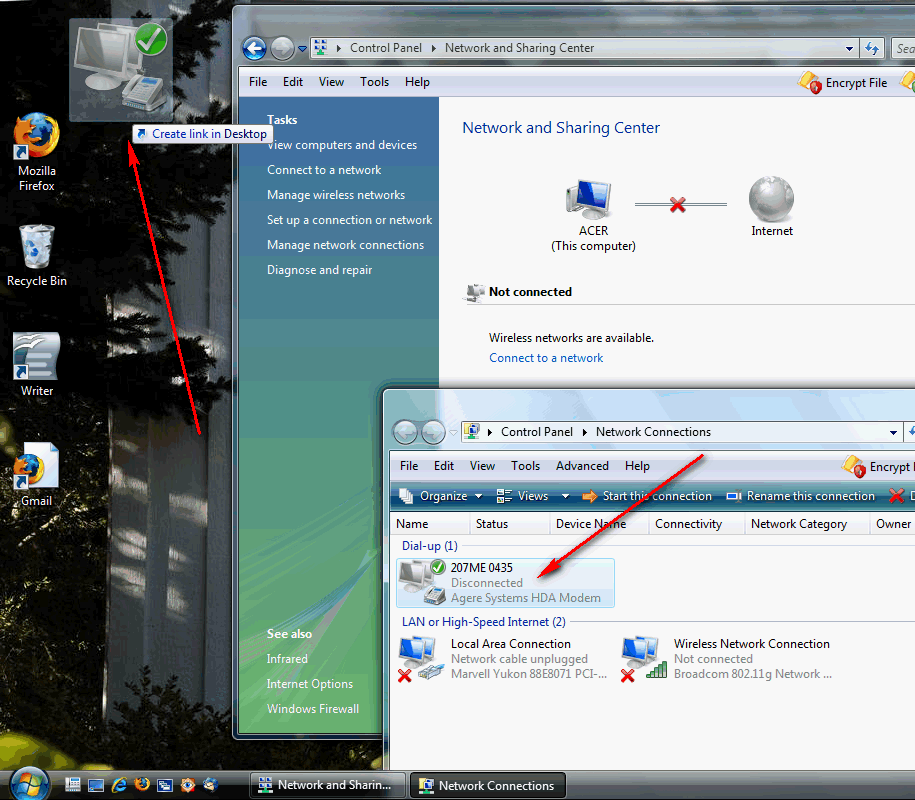 Setting up a Dial-up Connection
---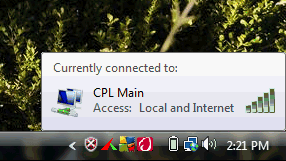 Setting up a Wireless Connection
---

---
Other Recommended Installations
On most new machines in addition to FastStone Image Viewer, I'll also install the following:
Firefox Web Browser
WoT Extension to Firefox
Adblock Plus Extension to Firefox (especially on a dial-up line)
Adobe Flash Player Plug-in (install from within Firefox)
Adobe Reader, www.adobe.com/downloads
QuickTime Plug-in, www.apple.com/quicktime (you don't need to give them your e-mail address, just click on the Download button)
Open Office Suite, www.OpenOffice.org
(Check back for Details)
---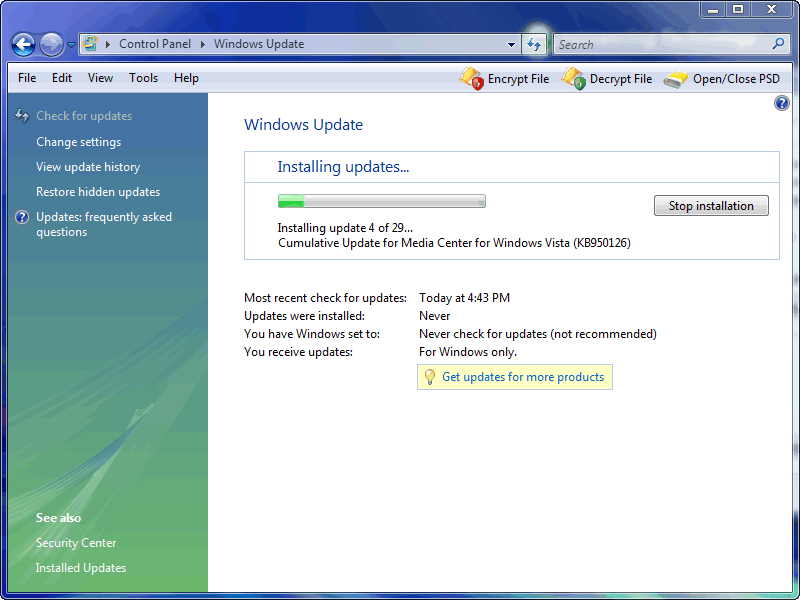 ---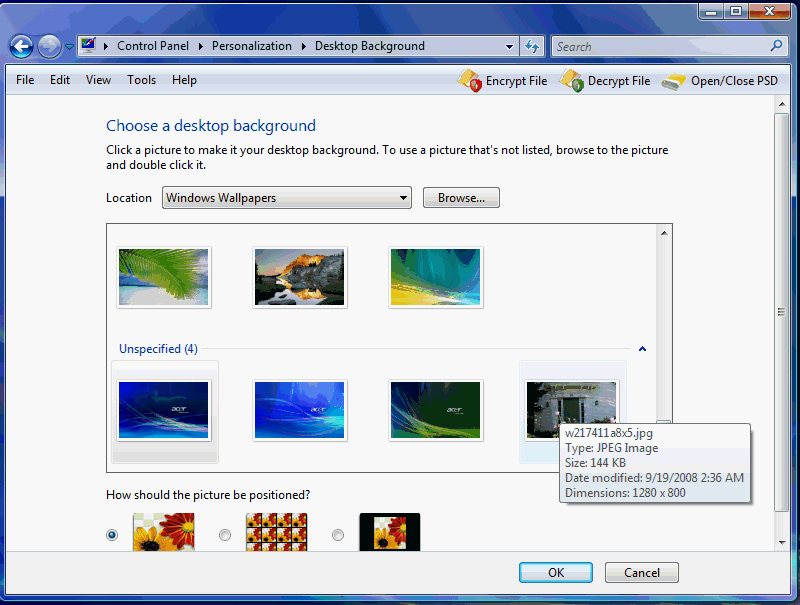 ---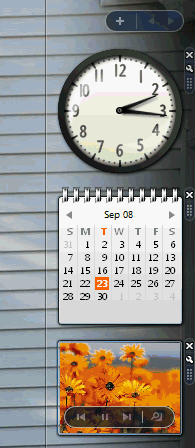 ---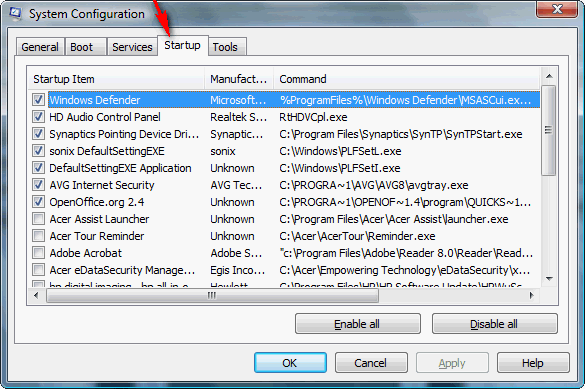 Limit Programs Running at Startup
---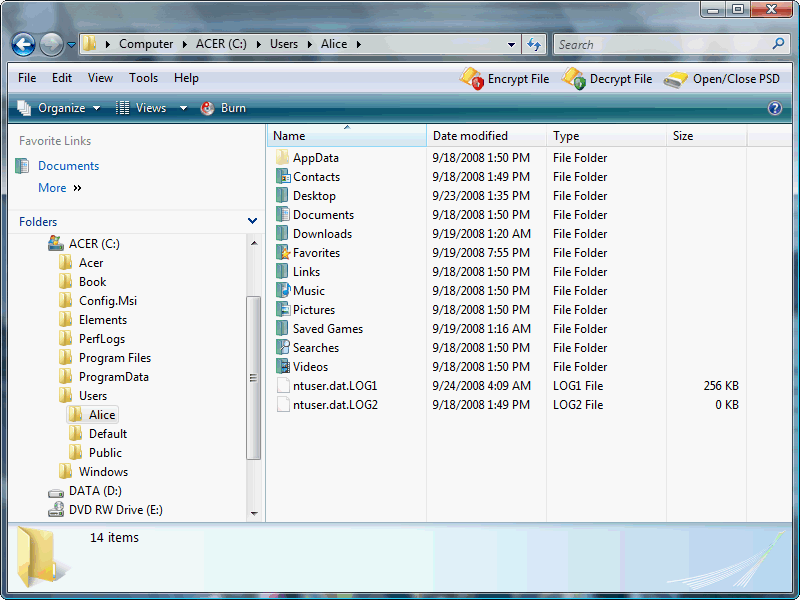 Moving Pictures, Music and Videos
Suggested next choices: