Backup Programs: Paragon Continued
by Wren McMains
Sometimes Paragon wouldn't let you do a backup of the entire drive so instead you have to backup the primary partition. Here I'm backing up my laptop which has two internal hard drives plus I have an external 500GB drive attached: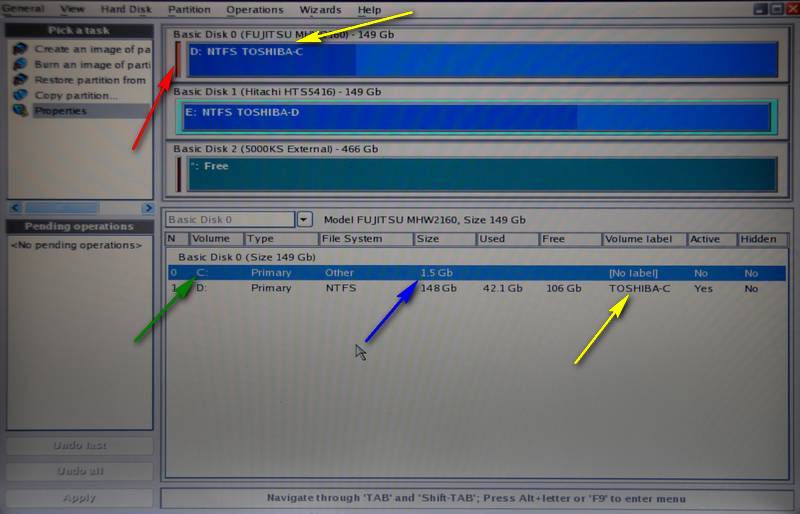 What's confusing is that in my case Toshiba put two partitions on the primary drive. The first partition (shown graphically where the red arrow above is pointing) and labeled C: (green arrow) to really confuse you is only 1.5GB (blue arrow) and not what we want to backup. I want to backup the partition labeled D: (green arrow) which has the volume label "Toshiba-C" (yellow arrows) which I assigned soon after getting the machine. (I always change the volume labels on my drives to a name which includes the machine name and drive letter ... this machine is named "Toshiba" and this is drive C when viewed from Windows. You can change volume labels, by right-clicking on a drive and choosing "Properties". The volume label is on the "General" tab, you can change it right there.)
Anyway, highlight your REAL C drive (green arrow below) and double click up where it says "Create an image of partition" (red arrow):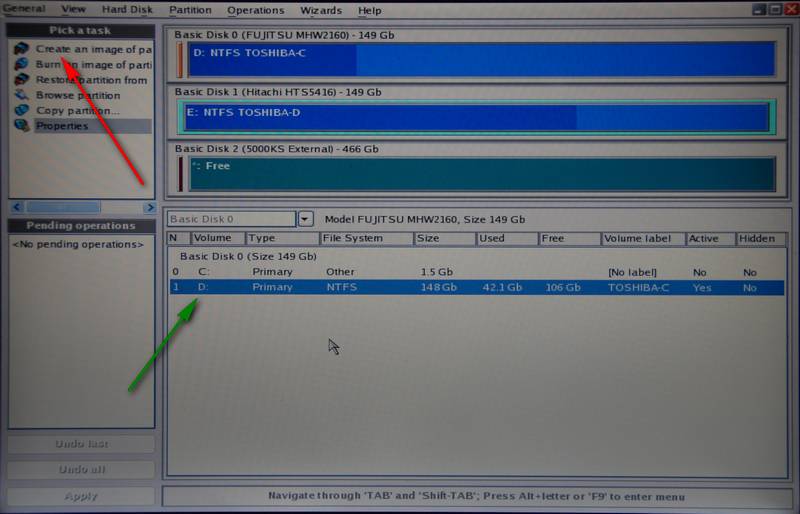 That gets you the menu below.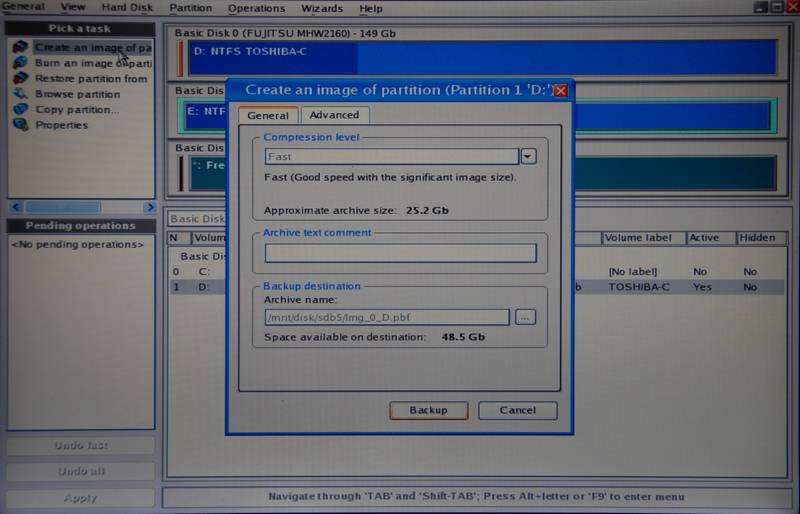 There's a lot to do here, so be careful not to jump ahead. First choose a compression level using the pull-down. In the menu above we see that the 42.1GB will compress to an estimated 25.2GB using the "Fast" technique. Other options are "Normal" and "Best".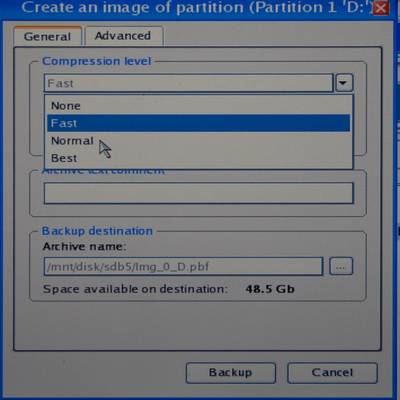 You're trading off the time it takes to do the backup vs. how much space the backup will consume. As you choose each option, it shows you the estimated size of the backup: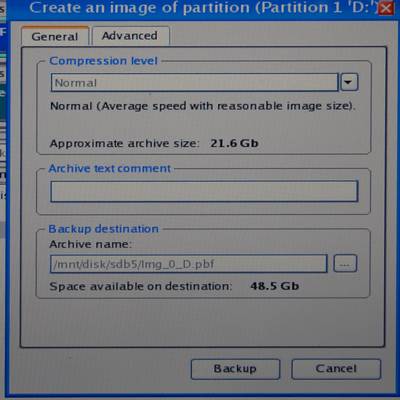 As you see, "Normal" will take an estimated 21.6GB and "Best" 19.1GB.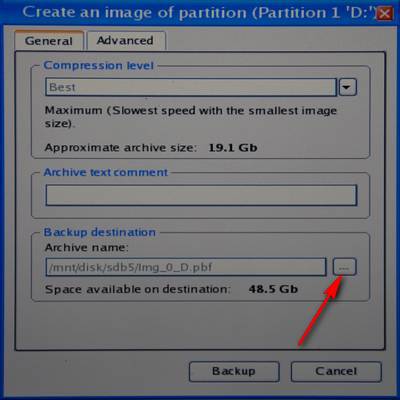 If I'm going to let it run all night, I'll choose "Best" ... but beware, depending on how much is on your drive this can take 2-10 hours or more. If you're in a hurry, choose one of the other options.
The next problem is to figure out which is the drive you really want to put your backup on. Again this is often very confusing ... the way to tell the drives apart is to make sure each drive has different top-level folder names that allow you to distinguish the drives apart. To specify the destination for your backup, click on the "..." (red arrow above).
By default, it will try to put the backup on your second hard drive. I know this is my D: drive (even though it calls it E:) because I just created a couple of folders there named "Albums-C" and "Music-C" where I moved the pictures and music that is normally on drive C:, but that I didn't want to include in this backup.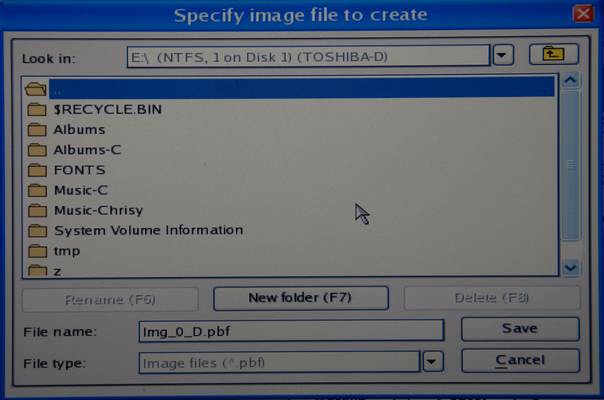 Since I wanted to put the backup on the external drive, I used the pull-down (red arrow) to find it: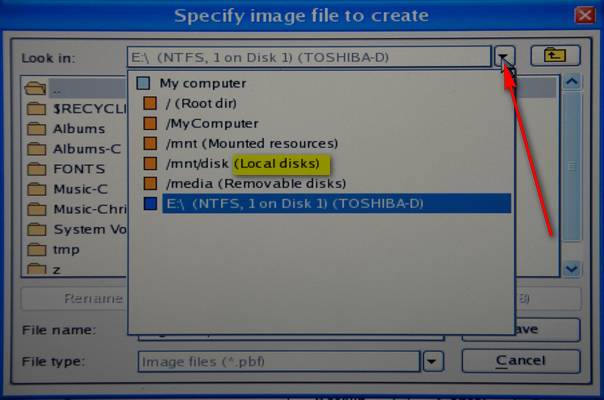 It's not always easy to find your external drive. You have to keep poking around.
First I tried "Removable Disks", but that turned out to be my CD/DVD drive. I tried other things without success. Finally came back a second time to what was labelled "Local Disks", which when chosen only give you this: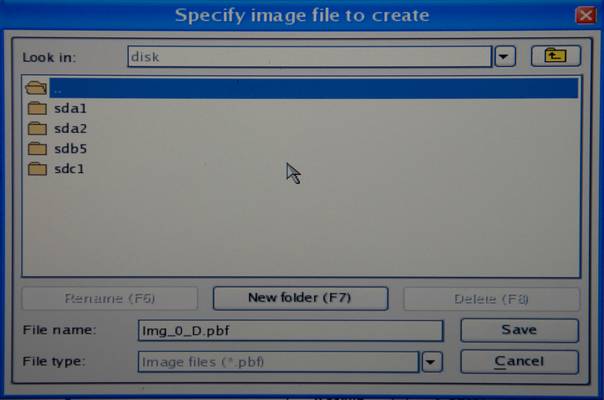 Then I had to choose each one, looking for folders I knew were on my external hard drive. In this case it really wasn't until the last choice when I saw the "zBackup" folder which I had just put on my external drive while it was mounted under Windows. (You might want to be sure each of your drives has a unique name which sorts near the top alphabetically so you don't have to scroll around as you're poking around ... and I always have to poke around.)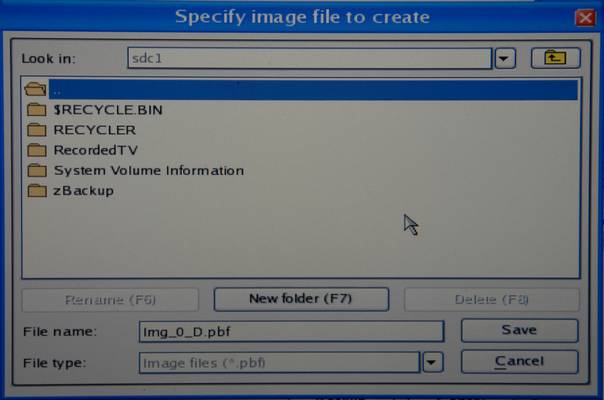 Be sure to double-click on the folder name, so you're in that folder. Here's what it looked like after I double clicked on "zBackup":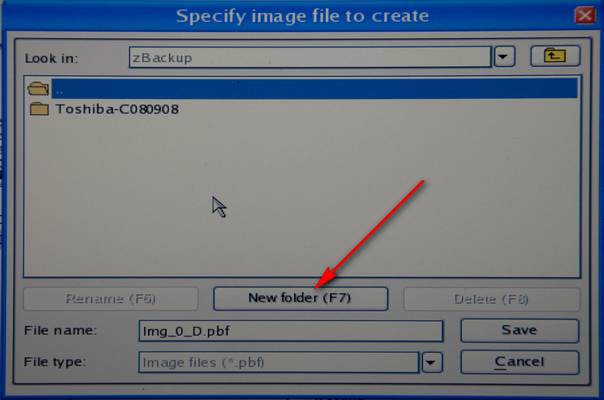 Next I like uniquely named folders for each backup. I name the folders based on the machine and the date, I also add the drive letter (C) but I'm not sure why since I only use this program to backup my C drives. In this case I had created the folder ahead of time under Windows as a double check to make sure I was in the right place.
If you haven't created the folder ahead of time (and I usually forget), once you're in the right folder, the one where you want to create backup folders, you can use the "New Folder" button (or F7) to create the folder. If you do this, be sure to double-click on the folder name after you create it, so the backup really goes in that folder. Double check this by verifying the folder name appears where it says "Look In" (red arrow).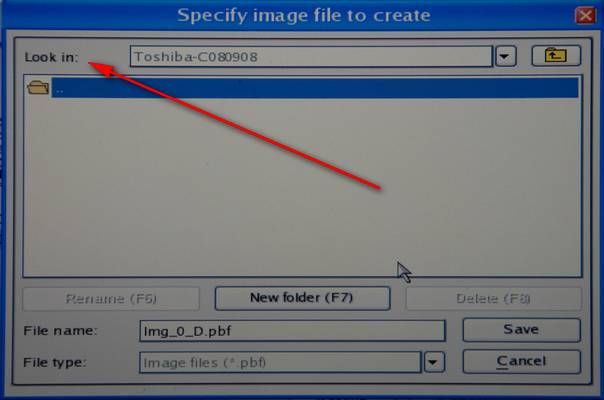 Next name the backup file (red arrow below). I use the same name as the folder, the backup process will potentially create dozens of files (one for every 2GBs of backup, plus a few extras), all the files will start with this string.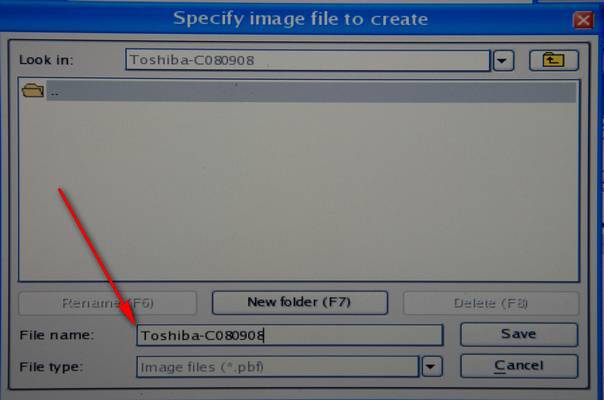 Once you've chosen the compression level, specified the destination and file name you're ready to start the backup. You'll note that now that the external drive is specified as the destination, there are 451GB available on that drive. Click the "Backup" button (red arrow), but nothing will really happens.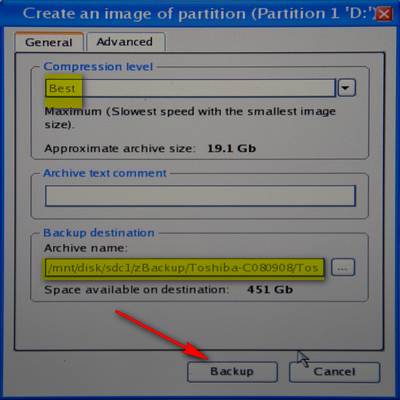 Instead you'll get this screen. Note that the "Apply" button which was grayed out has now turned green: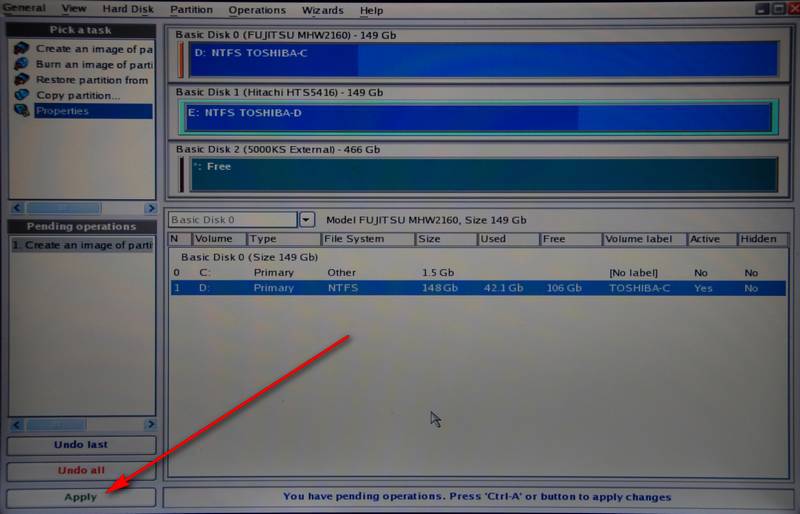 Click the "Apply" button and you'll get: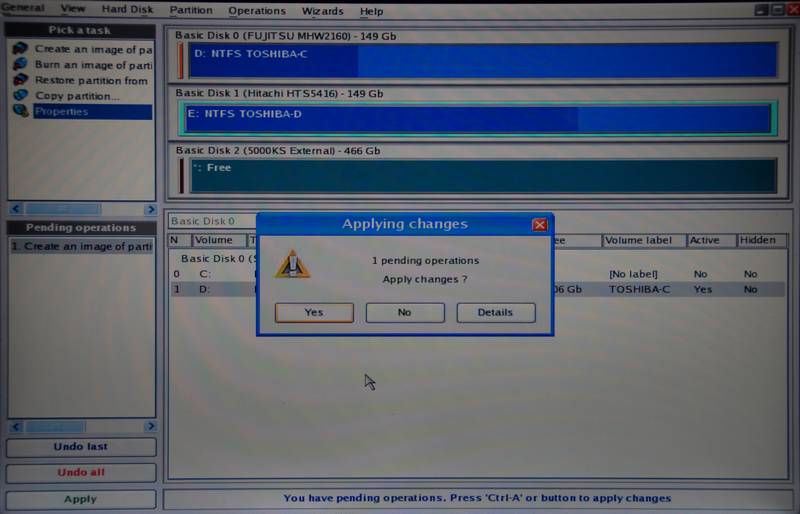 Click "Yes" and finally the backup starts.
After a few minutes, it will start estimating the "Time to finish":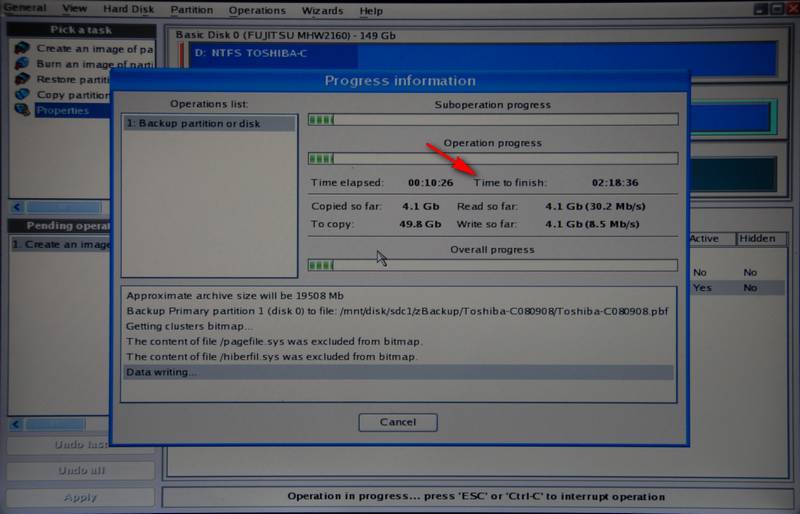 As you see above, it has been running 10 minutes and it estimates 2 hours and 20 minutes to finish. The longer it runs the more accurate the estimate becomes.
And remember, I only have 42GB on the drive to backup. It's going to take about 2.5 hours. If you have 200GB to backup it might take 10-12 hours using the "Best" compression level. Although I often use "Best", I only use it if I've first moved all the pictures, music and video from my C drive to another drive (external or internal). They don't compress much, if at all, and take forever trying to compress; and I use SyncToy to backup them frequently so don't need to include them in this backup. It's actually faster to move them (even to the external drive), run the backup, and then move them back. By making the backup smaller, I have room on the external drive to keep multiple backups of my C drive ... I recommend keeping at least the last two if possible.
Suggested next choices: