Installing Windows 8
by Wren McMains
(12/02/2012)
Compared to setting up your partitions, installing Windows 8 is a piece of cake. Just don't start until you have the partitions correct. If you have any questions about the partitions you've setup bring your computer to class before installing and we'll help you out.
12/05/2012 Update: Personally I recommend you keep your machine disconnected from the Internet until the end when you need to activate your copy of Windows 8. If you're not connected to the internet you're asked for your Username and Password as in the past and what Windows 8 calls a "Local Account" is setup. If you're connected to the interent the install process forces you to create an account at the Microsoft store and gives you no choice of username or local password (see my comments near the end). You'll need an account at the Store, but you can add that later. It's also true that you can later turn your account into a "Local Account", but by that time your local username may not be what you want.
Put in the DVD you created after downloading the ISO file and reboot your computer. Watch the messages from you BIOS, you need to boot from the Windows Update CD. If you do you'll see a Windows 8 menu with 3 choices which only let you set the language, time/currency formats, and input method. Change if necessary and press Next. On the next screen click on "Install Now". Next it will ask you for the Key you received when you bought the upgrade:/P>

I'm assuming you want to do a "fresh" install, so click on "Custom: Install Windows Only". If you followed my screen shoots for buying the upgrade, that's what you choose. I don't really know what your options are at this point, maybe you can also just do an upgrade, but I haven't tried that:

Now highlight the partition with the unallocated space and press Next: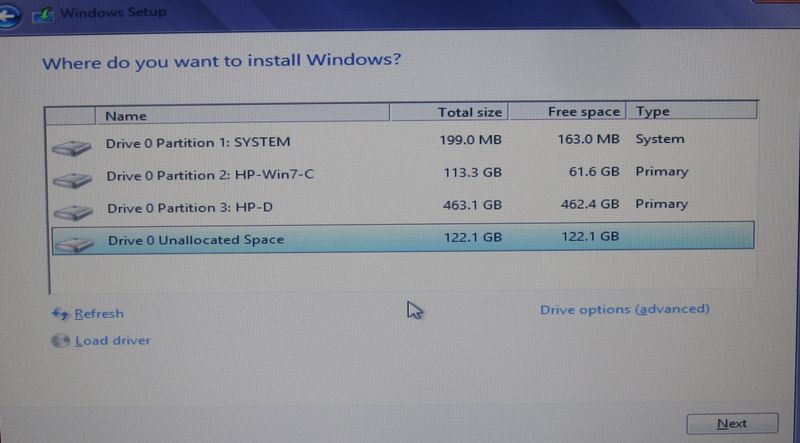 At this point there are no more questions, the install just starts: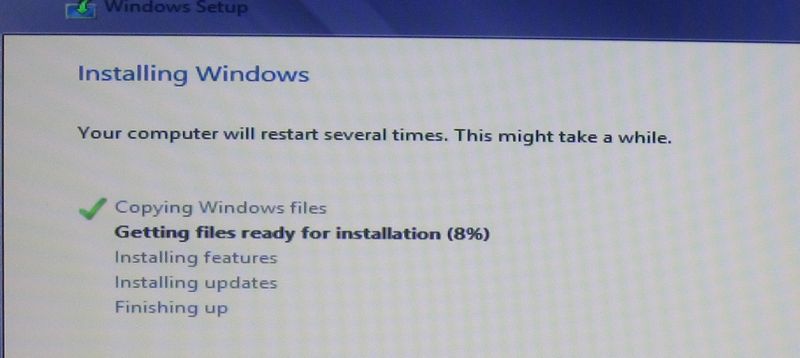 It takes 15 or 20 minutes and your computer will reboot about 3 times. Finally you see this screen: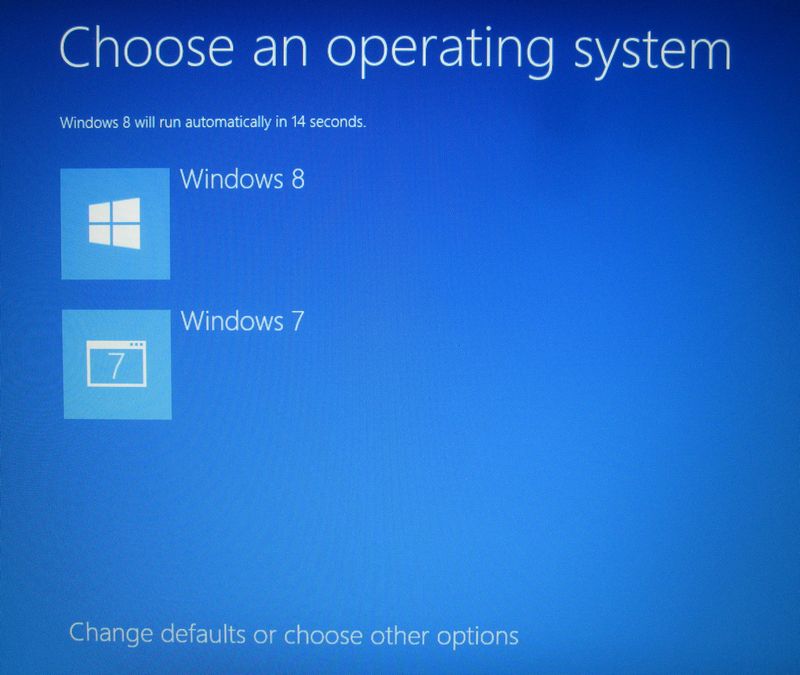 It will automatically start Windows 8 after 30 seconds or you can click on either the Windows 8 or Windows 7 icon. As you can see, when this screen appears in the future you can click at the bottom to change the defaults Operating System and the delay. I currently choose Windows 8 after a 5 second delay
Next it will take you through some personalization screens: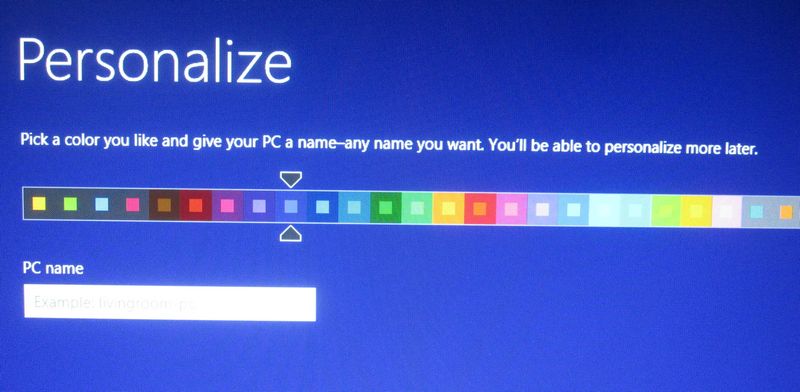 Pick a color (they're all pretty bad, but you don't see them much). If you have a wireless connection it shows you the networks within range. Click on one: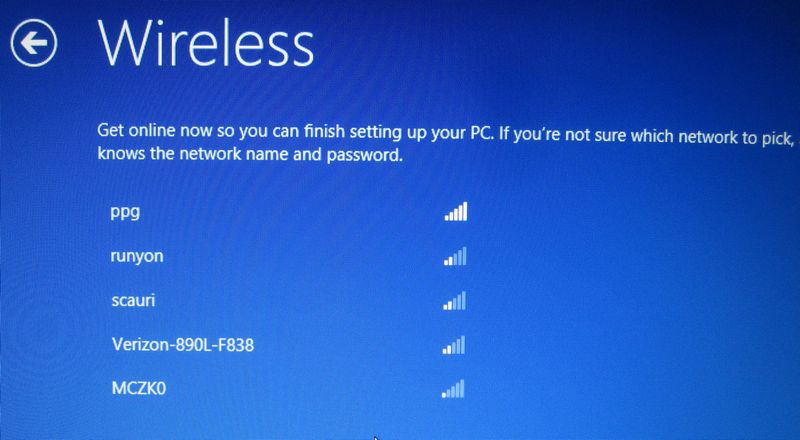 Then enter the password:

You can use the "Express Settings":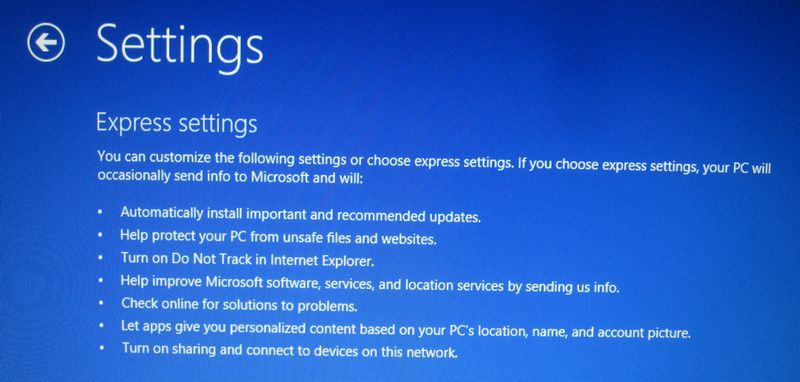 But of course I had to see what all the options were:

I turn on sharing, by clicking on it. And on the next screen I turn off automatic updates, but that's your choice. I explain in other tips why I like to install updates only every few months and after I have just done a system backup. I think the last 3 options on this screen only apply to Internet Explorer, which I don't use, but am not sure:
Next we see settings which default to off: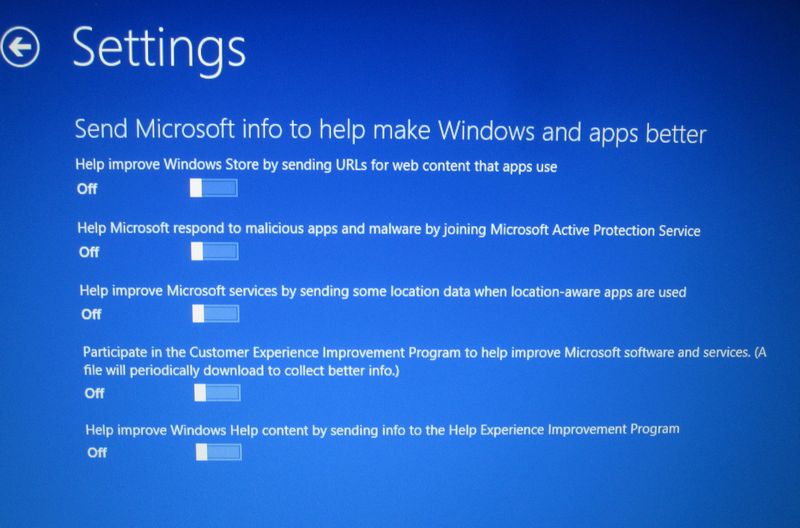 Then we see some settings which default to on. I turned them all off until I understand them better: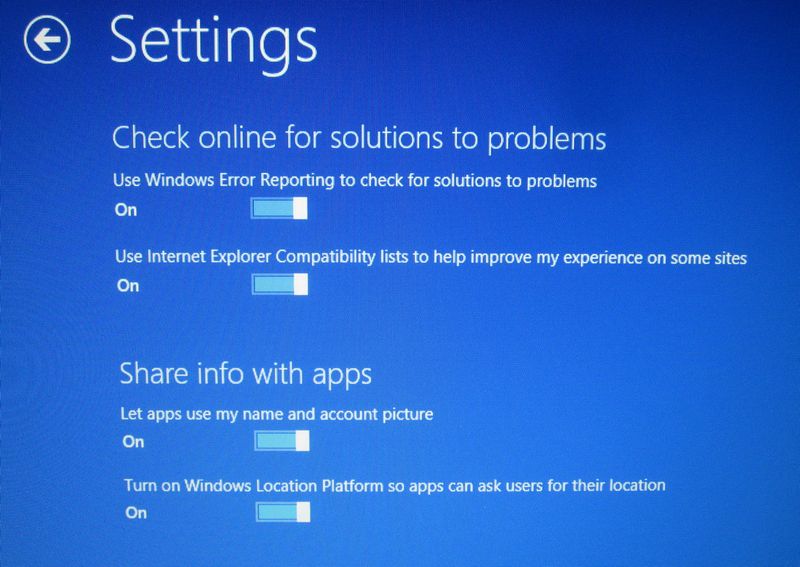 I think I turned all these options off too. (After you've used Windows 8 for a day or two, be sure to go back and review all these settings which you can access through the Charms Toolbar.):
On the next screen is where I got into trouble. It asks for a Microsoft account. I swear that on the first two machines I installed Windows 8 on it allowed me to do this later (or I might have used an existing Microsoft address I had). Maybe there was another option at the bottom which I missed, but I don't think so ... I tried to skip past this without luck: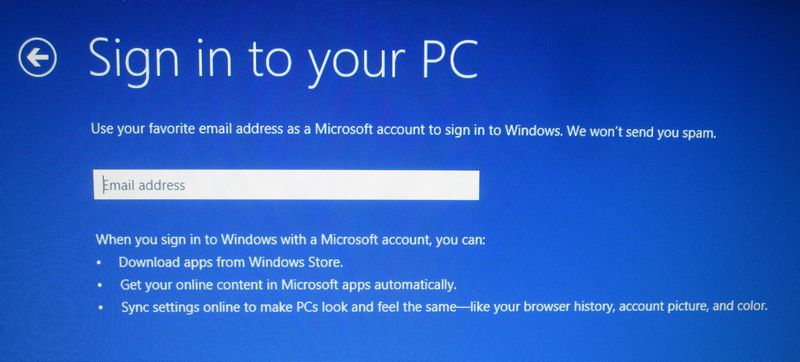 So instead I decided to setup a new account and I wasn't very happy with the results.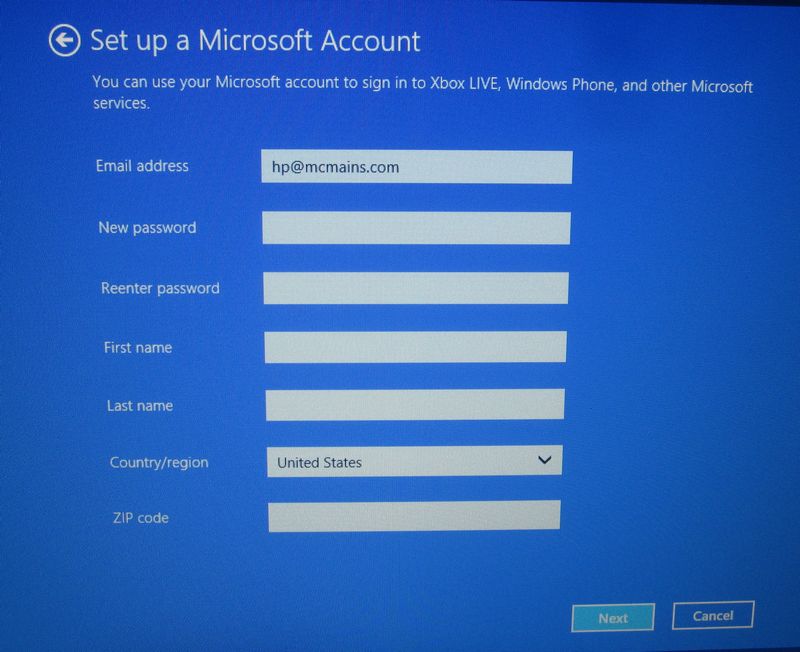 One problem was it never let me specify my user name. Instead it created one using my First and Last name which will never work because I share data over more than a dozen drives and the sharing doesn't work unless my account name and password are exactly the same on all machines. Another problem you'll notice is that it never asks you about the time zone. Microsoft must think we all live on West Coast (and I don't mean the West Coast of Florida). One of the next screens (not shown) also asks you for some additional security information. It asks you to answer a "secret question", but only gives you limited choices and then you discover the answer for only one you'll remember has less characters than they allow ... really poor ... not very user friendly.
When it comes to Microsoft accounts there is good and bad news. The good news it that they allow you to share Apps across 5 devices, and when you add a new device it shows you the Apps you've already "bought" and makes it easy to download them to the new device. The bad news is that you can only have 5 devices. Between June and I we have 4 desktops in Maine, 4 in Florida, now 3 laptops and hopefully a tablet if I can ever find one I like. As long as all the Apps we use are free, there is no problem, just use different accounts. However, once we pay for Apps, which I'm sure they want to encourage, I will probably want to license each paid App on a different set of machines which they don't seem to allow. Even worse, it sounds like they will turn off free Apps already installed on a machine if I change the Microsoft account associated with it. I'll report back when I have more experience.
Finally it takes a few minutes going through some colorful screens which you can't interact with. Finally, maybe after another re-boot, you get to the new Window 8 Start Screen: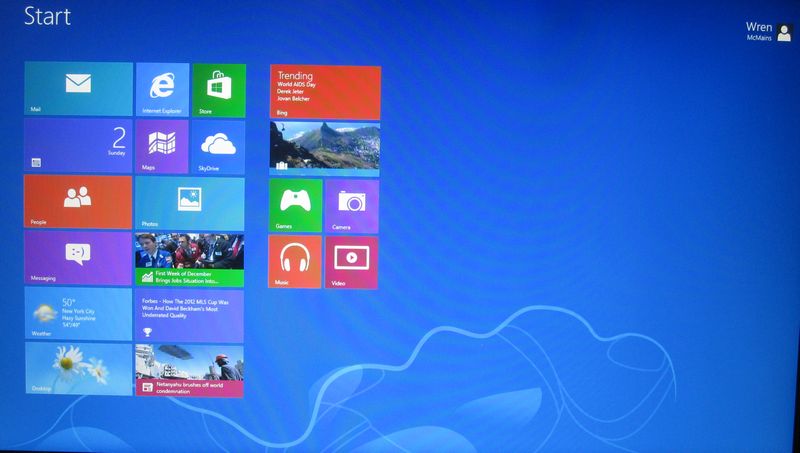 Speaking of partitions, once Windows 8 booted I found I had to change the letters associated with them to make things work the way I wanted. The C: partition is always the current OS, it depends on which you boot. That's not a problem, but I wanted my data partition to be D: and I wanted the partition with the "other" OS to have some other letter that would always be the same even as I added hard drives later. As I say this is easily solved using "Disk Management" which you can find in "Computer Management" or you can access directly using the new Windows 8 shortcut for power users: WinKey+X.
Suggested next choices: