Google+ is what you make of it. For example, you can use it fashion the most amazing photography club in the world; one that matches your tastes, yet provides inspiration and insight. Unlike Facebook where (until recently) sharing was just with your friends, you can see and comment on images posted by world class photographers and they'll discuss them with you. Others will comment on images you post, and if you want critique, join the critique circle.
To see a photographer's images in your stream just add them to one of your circles. When I started, I circled photographers one at a time when someone shared a post by someone whose work I liked. Alternatively you could go to www.Group.As and find people with a common interest in almost ANYTHING, not just photography, and start adding them from there. Recently G+ added a feature which allows people to "share" a circle, so you can now add the whole circle in one click. If you're a photographer, here's a circle you might want to start with Jarek Klimek's List of G+ Users Photographers Need to Follow. It may be more people (over 150) than you want to follow, but you just remove anyone whose posts don't interest you.
Because Google+ made an big effort to involve photographers when Beta testing by invitation started, the photography community is amazing.
Jump to: Why do I like Google+? (but don't forget to come back and read my Tips)
Google+ is just like Facebook with Circles.
Friends: Everything in Google+ (G+) is basically the same as Facebook (FB). Instead of Friending people, you add them to one or more of your circles ... once they add you back to one of their circles it's equivalent to accepting you as a friend.


If you get a notice that someone has added you to their circle and you don't want to share with them, don't worry about it, just ignore them. They can't see anything you post other than things you make Public.


If you add someone to a circle and they don't add you back to one of their circles you still see anything they post as Public in your "stream", not because they're your friend, but because it's Public. Personally if I have any idea who the person is and/or how they found me I add them back to one of my circles. For example, many photographers have added me to one of their circles, so I've added them back to a Photographers circle I have.
News Feed: What Facebook calls a News Feed, Google+ calls a stream. You can get to it by clicking on +YourName in the black Google Nav Bar at the very top:

In Facebook the "Most Recent" sort of your News Feed shows posts ordered by the time originally posted. G+ also orders the stream that way, but occasionally it puts a post you comment on in the stream based on the time of the most recent comment, not the time of original post (if I can ever figure out exactly when this happens, I'll explain it). Facebook also has a Top News view, but no one has ever been able to explain what posts appear in that view or their order :)
The Like button in Facebook is replaced by a +1 button in Google+. It's basically the same, but there's more to +1 ... if I ever actually figure it out I'll explain it. Treat it the same as the Like button (but realize there may be some instance where it is more public).
The Wall in Facebook is called your Profile in G+. You get to it by clicking on your name, almost anywhere it appears. For example, next to your profile picture:

When you write on someone's wall in Facebook they and all your common friends see it in their News Feed (and any of their friends can see it by going to their wall). The equivalent in Google+ is to just post something in your stream ... who can see it depends who YOU share it with (allow to see it). If you just name a person, ONLY that person can see it. So the equivalent of writing on someone's wall is to share a post with the circle the friend is in, or several of your circles, or "Your Circles" (all of them). As far as I can tell none of the other person's friends can see it unless you give them access through one of your circles or by naming them individually, that's either good or bad depending ...
Notifications are basically the same in Facebook and Google+, the number of notifications you haven't looked at appears in a red box in the upper right next to your name:

I think the way you see the details of each is much nicer in Google+, when you click a notification in the list, the notification pane expands to show you everything worth seeing. In this case the original post, new comments which you haven't seen yet (if you click on "17 comments" it would also show the the ones you've already read), and if you click on Older it takes you to the next notification. Note that this post had been +1'ed by 29 people and shared by 13 with their circles: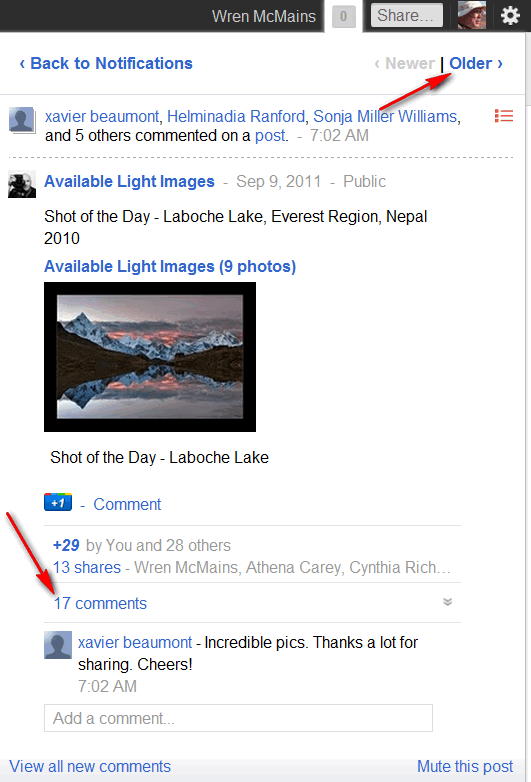 Just like in Facebook you can control which notifications send you e-mails ... if you use Facebook and/or Google+ EVERY day I recommend turning off the e-mail notifications ... if you're an infrequent user leave them on.
Photos in Google+ are much like they are in Facebook. When you click on an individual photo in G+ it takes you to a "Lightbox" view, much like the new (well it was new at one point) photo viewer in FB. In this view you can comment, tag individuals and edit the caption. I highly recommend having your browser in full-screen mode before entering the Lightbox so that images are displayed at the maximum resolution possible on you display. You can even press the F11 key first to allot even more of the screen to the image display.
Facebook has a (private) Message area. Personally I would much rather get an e-mail (and FB shows your e-mail address to friends, by default G+ doesn't). Using FB Messages to send a note to someone who is not yet your friend does make sense. In Google+, the equivalent is to just post something and share with the one (or several) individual(s). And like FB messages, they need not be in one of your circles to name them in the share.
I thought a limitation of Google+ was that you couldn't send non-G+ users links to posts or anything else you want to share with them. But I've discovered that if you share a post, an album, etc. as "Public" a "link to the post" choice appears in the drop-down next to it. Once you click, you can then copy the URL and send to it anyone, including non-G+ users. Even though it is a secure link, they can view it.
There are Games on G+, but I don't play them so have no idea if they are as bad about posting junk in streams as the Facebook games and other Facebook Apps which I avoid.
There is a Google+ App for your smart phone which is much like the Facebook App. If you have a smart phone, I recommend getting it.