by Wren McMains
(Updated 8/20/2009)
Social Media, unlocking the awesome potential of behavioral disorders: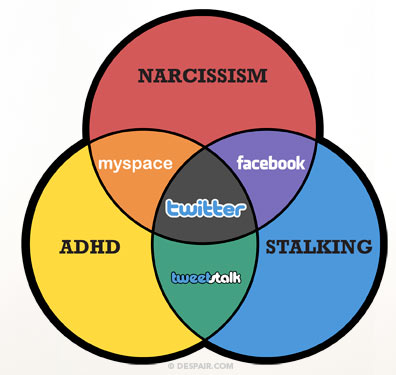 You can buy the T-shirt here.
Facebook is not a bad way to keep in touch with lots of people at once, but it's not the most intuitive, or user-friendly, application I've ever seen, a thought echoed by a couple of Friends:
Facebook isn't exactly user-friendly -- their directions on how to customize their site to your needs are nigh impossible for me to understand, and I have a Ph.D.

Seems to a stumbling around, "where'd that go?", "hey, what's this?" type of system.
My own experience is that the more I learn about Facebook, the less I understand.
I know many people love to use all the games and other fun things that come with Facebook, but if you want to practice safe computing, my advice is to avoid using any "application" ... if it asks for permission to access your basic data, say NO. These applications are frequently the source of viruses and messages that harass your friends.
Facebook seems to keep changing their interface every few months, therefore, the rest of this is pretty useless, but you may find some tips that still apply.
If you're new to Facebook I still recommend Important tips for the new user, most of the tips are still valid, even if the details and screen shots are all out-of-date because of the constant changes to the Facebook interface.
Using Chat (why it confuses people)
Facebook Applications:
3rd Party Applications

Mostly I recommend you avoid using them, especially the ones that require access to your personal data. You have to trust Facebook to protect your rights and privacy, but I'm not convinced about 1000's of 3rd parties after reading the fine print.
Some applications are "Verified", someday I'll comment on some of them *.
* At some point I may work on other sections. E-mail me if there's one you would like me to do, or if there is something confusing you would like me to clarify (either in my tips or in Facebook).
Here's a link to the official Facebook: New User Guide
Sponsored Advertisements:

Sponsored Advertisements:

Sponsored Advertisements: